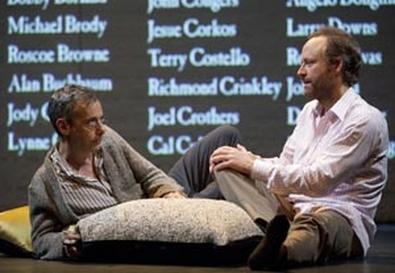 "We must love one another or die." The command comes from W.H. Auden's poem "September 1, 1939," which gives Larry Kramer's "The Normal Heart" its title. Written in the teeth of one apocalyptic whirlwind, the line remains true for another: the plague of AIDS. Remaining just as true is Kramer's searing, savage howl of a play, first produced in 1985, when it was an urgent dispatch from the frontlines of a new war. That ongoing war is different today, but there's nothing dated about "The Normal Heart." Finally where it belongs, on Broadway, it can be seen now for the towering American tragedy that it is, as essential to our culture as "Long Day's Journey Into Night" or "Death of a Salesman." Being given a letter-perfect production by directors Joel Grey and George C. Wolfe, this is a "Heart" that beats with blistering but redemptive power.
Kramer's autobiographical tale recounts the story of Ned Weeks, a Jewish writer stalking middle age whose friends suddenly start mysteriously dying from diseases they shouldn't have. Ned's response is to organize the Gay Men's Health Crisis, a group intended to fight for research into the cause. The fight is necessitated by the toxic societal homophobia that causes leaders, from newly elected President Ronald Reagan on down, to ignore the crisis, deeming it God's punishment for a perverted lifestyle. But Kramer intertwines the political with the personal as the spiky, lonely Ned deals both with falling in love for the first time and a relationship with his beloved older brother, Ben, that's threatened by Ned's activism.
Grey replaced Brad Davis as Ned in the Public Theater's landmark original production, and this version is based on a one-night reading Grey recently directed. It's clear that he knows the material well, and his insightful work has been vibrantly augmented and realized by Wolfe, due to Grey's current "Anything Goes" gig. I've seen Davis, Grey, and Raúl Esparza play three quite different but equally memorable Neds. Now Joe Mantello, one of today's finest directors, back on Broadway as an actor for the first time since "Angels in America," gives the role his own idiosyncratic spin that's as blazing and brilliant as his predecessors'. The handsome Mantello is particularly convincing in Ned's belief in his unattractiveness, which the actor roots in Ned's ethnicity and argumentativeness, making his romance with the sexy and self-assured WASP Felix, a society reporter for The New York Times, even more moving. Mantello navigates Ned's symphonic rage expertly, never alienating us even when the character easily could.
John Benjamin Hickey, as Felix, has great chemistry with Mantello and delivers a nuanced, multileveled turn notable for its unflinching depiction of Felix's harrowing battle with AIDS. Mark Harelik makes the loving Ben's inability to see his gay sibling as an equal completely comprehensible and deeply sad. As Ned's GMHC co-founders, Patrick Breen is unforgettable in health-professional Mickey's full-throated defense of sexual promiscuity, Lee Pace makes the ruggedly attractive closeted ex-Marine Bruce into a formidable adversary, and Jim Parsons nails the scene-stealing, sweetly waspish "Southern bitch" Tommy.
Special mention must be made of Ellen Barkin's wheelchair-bound Dr. Brookner. Her fierce performance reaches a ferocious peak in an Act 2 excoriation of a resistant government bureaucrat, which prompted a sustained round of vigorous applause from the galvanized audience. Barkin is extraordinary.
David Rockwell's white box set, featuring statistics and quotations carved into it chronicling the early AIDS years, accommodates Batwin + Robin Productions' projections well, honoring the play's original minimalist production aesthetic, as do Martin Pakledinaz's subtle period costumes. David Weiner did the starkly effective lighting, and David Van Tieghem composed the properly pounding, era-evoking disco music.
Kramer's indispensable work tells us who we were and how we got here. Such knowledge is indispensable for knowing where we should be headed and how to get there. If you see only one play this year, make it "The Normal Heart."
Presented by Daryl Roth, Paul Boskind, and Martian Entertainment, in association with Gregory Rae and Jayne Baron Sherman/Alexander Fraser at the John Golden Theatre, 252 W. 45th St., NYC. April 27–July 10. Tue. and Sun., 7 p.m.; Wed.–Sat., 8 p.m.; Sat. and Sun., 2 p.m. (212) 239-6200, (800) 432-7250, or www.telecharge.com. Casting by Telsey + Company.