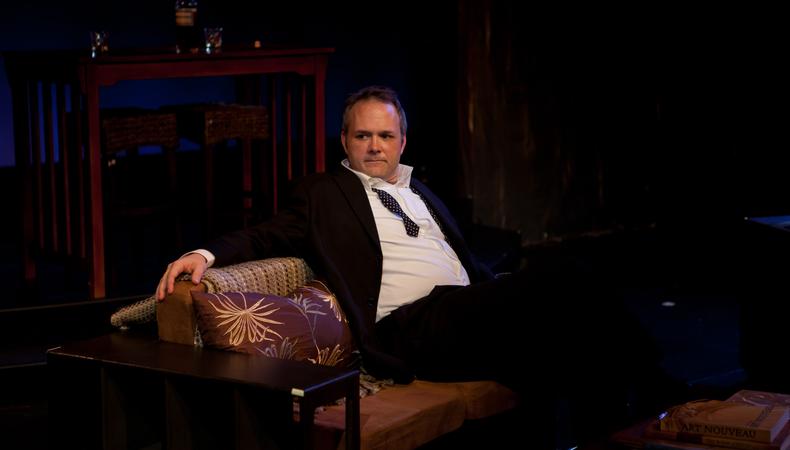 Bennett Windheim's "Normalcy," directed by Benard Cummings, focuses on the marriage of two well-heeled New York City professionals who want a family—or claim to. The Ehrlichs are immersed in their careers. Advertising man Peter (Judson Jones) seems burned out by his work, but fashion journalist Sarah (Aleisha Force) sees her professional star rising. The couple has been plagued by infertility issues. When we first encounter them, entertaining Peter's father, Jules (Harvey Guion), and Sarah's mother, Marta (Mary Ann Hay), Peter and Sarah claim to be content with their childless lot. So it surprises in a subsequent scene when they reveal that they are going to adopt a child—specifically, an African-American child.
Windheim has created a 21st-century version of an Ibsen problem play that looks at the subject of transracial adoption. All the major supporting characters weigh in on the complexities of the issue: Jules, Marta, Peter's work associate Solange (Sarah Joyce), an adoption-service rep named Catherine (Darlene Hope), and a young speaker at an adoption seminar, Aiesha (Lisha Mckoy), who was raised by a loving white couple whom she came to resent. "Normalcy" asks many questions. Does transracial adoption unfairly isolate children from others whose identities they share? Are career-oriented couples doing a disservice by insisting on having a family when they are clearly workaholics? Can supposedly altruistic motives ever be completely free of quid pro quo trappings?
The play is a bit stiff and clunky in its aphorism-heavy first part. Prospective grandpa Jules seems to reside inside some ongoing Platonic dialogue, always pontificating about something or other. However, as the action unfolds Windheim does better at keeping the focus on this specific marriage and how it comes in danger of breaking apart. A hint is given that perhaps the decision to pursue the adoption is a subconscious way for the Ehrlichs to short-circuit their marriage. That's a notion that gives viewers something intriguing to consider.
Strong performances from Force and Jones enhance the production. Jones is particularly good, conveying beautifully the sour, sad disposition of a man embarrassed by the big bucks he makes concocting inane yet memorable slogans. Force fully explores the contradictions in Sarah and is especially effective during her angrier moments. As Catherine, Hope is sly, wise, and funny. Most of the other turns are solid, but Guion gives a rote performance that's short on nuance. Jules may be a cranky motor mouth, but he should have more of a genuine connection to the ideas he spouts.
Lea Anello's set allows various locales to be depicted with minimal shuffling. Composer and sound designer Scott O'Brien has created a brooding score that's a good match for the contemplative nature of the play.
Presented by Theatre East at the Peter Jay Sharp Theater, 416 W. 42nd St., NYC. Sept. 5–22. Wed.–Sat., 7 p.m. (212) 279-4200 or www.ticketcentral.com.
Critic's Score: B