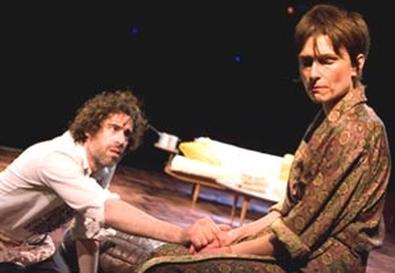 It's proving to be a stellar year for revivals on the Great White Way, but none packs as much comic punch as the Old Vic Theatre Company's splendid production of Alan Ayckbourn's
The Norman Conquests
. Rarely have I heard such explosive laughter rock a theatre with such regularity.
This 1973 trilogy comprises three full-length plays:
Table Manners, Living Together
, and
Round and Round the Garden
. The structural conceit is that they take place simultaneously across a weekend at a suburban English home: one in the dining room, one in the living room, and one in the garden. A character's exit in one play becomes an entrance in another. Ayckbourn examines the unhappy lives of siblings Annie, Reg, and Ruth. Reg and Ruth are married to Sarah and Norman, respectively, while unattached Annie waits for the shy Tom, a local veterinarian, to indicate his romantic interest. Upstairs is the unseen tyrannical ailing mother of the three, whom Annie stays at home to care for. Reg and Sarah have come to spell Annie for a weekend holiday. What they don't know is that Annie plans to spend it in a romantic tryst with Norman. Those beans are soon spilled, the tryst is canceled, Ruth arrives in search of her errant spouse, and everybody spends a stressful weekend in the longtime family home.
The play gets its title from the irrepressible Norman's need to seduce virtually anyone he can, including his wife. How he goes about it fuels the plot, but there is also plenty of comic fodder in the relationships among these six very different people. The buoyant Stephen Mangan endows the potentially irritating Norman, whose id has never met his ego, with enough charm to explain why all three women are attracted to him. As the no-nonsense Ruth, Amelia Bullmore is sexy, smart, stiletto-sharp, and never funnier than when pretending she doesn't need her glasses. The captivating Jessica Hynes wisely underplays the little-girl-lost qualities in Annie while highlighting her feistiness. Ben Miles shows impeccable comic timing as Tom and happily humanizes what could be a stereotypical socially inept English eccentric. Paul Ritter is equal parts bluster and bonhomie as the childlike Reg, whose bewilderment at how his life has taken shape feels true and touching. First among equals is the terrific Amanda Root as the controlling, prudish Sarah. One only needs to see the way she strides across a room to know volumes about her, and when she too succumbs to Norman's overtures, it's both hilarious and heartbreaking.
Director Matthew Warchus' brisk in-the-round staging is consistently attuned to the script's dark subtext while never stinting on its hilarity. And that's the secret to Ayckbourn's success: This isn't a mere farce; the nearly seven-hour combined running time justifies itself by providing the space to reveal the characters in all their maddening humanity. These people can be foolish, petulant, wasteful, wounding, and sad. But you'll only see that if you see all three plays. The producers would have you believe you can experience them in any order, but I would recommend putting
Living Together
, which seems least able to stand on its own, in the middle. And as the dramatic climax of
Table Manners
is not the end of the story, it should go first.
It's precisely because of the depth of Ayckbourn's writing that
The Norman Conquests
is so tremendously funny. It's a deeply satisfying theatrical experience.
Presented by Sonia Friedman Productions, Steven Baruch, Marc Routh, Richard Frankel, Tom Viertel, Dede Harris, Tulchin/Bartner/Lauren Doll, Jamie deRoy, Eric Falkenstein, Harriet Newman Leve, Probo Productions, Douglas G. Smith, Michael Filerman/Jennifer Manocherian, and Richard Winkler, in association with Dan Frishwasser, Pam Laudenslager/Remmel T. Dickinson, Jane Dubin/True Love Productions, and Barbara Manocherian/Jennifer Isaacson at the Circle in the Square Theatre, 1633 Broadway, NYC. April 23
–
July 25. Tue
.,
7 p.m
.;
Wed
.,
2 and 8 p.m
.;
Thu. and Fri
.,
8 p.m
.;
Sat
.,
11:30 a.m
.,
3:30 and 8 p.m
. (
212
)
239-6200
, (
800
)
432-7250, or www.telecharge.com. Casting by Gabrielle Dawes
.