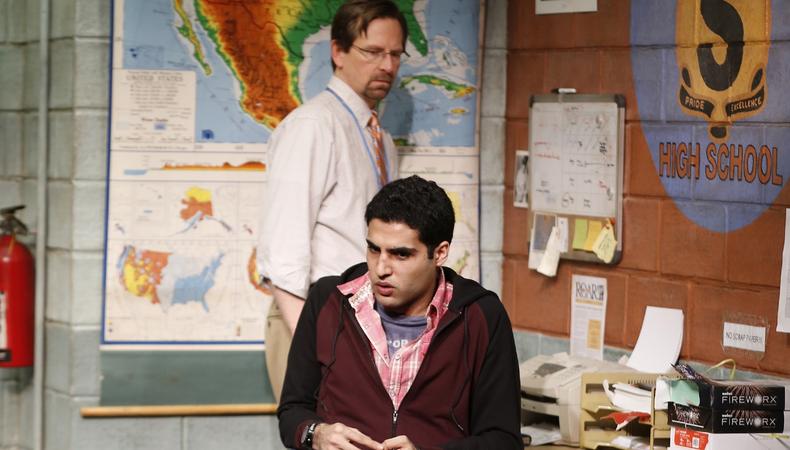 Achievement: It's a loaded term, no? But what exactly does it mean? The word appears in all caps on a poster in the office of Dr. Danielson, the vice principal of Sheffield High, accompanied by a picture of someone canoeing off into the sunset and a quotation from Ralph Waldo Emerson: "Optimism is the faith that leads to achievement. Nothing can be done without hope and confidence." Ironically, confidence and optimism are sorely lacking in each of the characters in "The North Pool," Rajiv Joseph's semi-intense interrogation of a play, though both are blindly seeking achievement.
Danielson, who is white, feels that he's a victim of affirmative action, while 18-year-old Syrian high schooler Khadim has every opportunity anyone could want, marred only by the racial prejudice his appearance spurs. But are our stereotypical views of and preconceived notions about someone correct? Is Danielson the perverted sexual predator his students say he is? And is Khadim the person behind the school's rampant graffiti and recent bomb threat? This heated and generally well-paced two hander, directed neatly by Giovanna Sardelli, keeps us guessing and—almost unfairly—never answers these questions. Frankly, there's only so much wondering an audience can do before it becomes repetitive.
That, however, doesn't make it entirely uninteresting. Joseph, who was a Pulitzer Prize finalist for his play "Bengal Tiger at the Baghdad Zoo," carefully navigates these issues of discrimination. Khadim enters Danielson's office on the Friday before spring break to discuss an unexcused class absence. The administrator decides to give him detention, which he will serve right away, and seizes the opportunity to virtually cross-examine him about his behavior. You see, Khadim suspiciously left his private school and enrolled midyear at Sheffield, a crowded public school with 3,478 kids. He's also friends with Sheffield's chief troublemaker, and his parents are away in Saudi Arabia. It all seems suspicious, but everything shifts when Khadim and Danielson find a common love: a student named Lia, who recently passed away.
Babak Tafti masterfully dances through Khadim's evolution. This once innocent, victimized kid spirals into a potentially suspicious and dangerous character in moments. Stephen Barker Turner disappears inside the subtle physicality of Danielson, who unsurely stoops around his lair slowly unraveling his broken ego. "Pride of work is pride of self," he repeats over and over, trying to convince himself and his student simultaneously.
The play suddenly finds its optimism, and like the poster the production shifts tonally and ends with a similar—albeit metaphorical—sunset ride for the two characters. It's nice to feel a sense of forgiveness and optimism, but it's hard to determine whether anything was actually resolved.
Presented by and at the Vineyard Theatre, 108 E. 15th St., NYC. March 6–24. (212) 353-0303 or www.vineyardtheatre.org. Casting by Henry Russell Bergstein.
Critic's Score: B