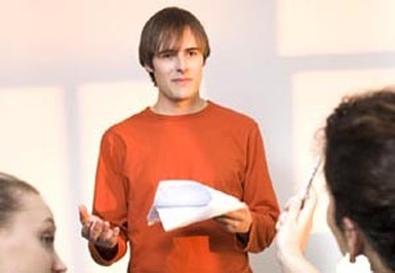 Casting directors Kathy Mooney and Janet Pound came together last May to form Michigan's Pound & Mooney Casting. Their credits include the Michigan casting for Clint Eastwood's Gran Torino and the upcoming films Whip It!, directed by Drew Barrymore; Youth in Revolt, starring Michael Cera; Demoted, with Sean Astin and David Cross; and High School, with Colin Hanks and Adrien Brody. They were the primary casting directors for the film Butterfly Effect: Revelation and the Michigan CDs for the Lifetime TV movie Prayers for Bobby and the HBO pilot Hung.
The Motor City Shifts Gears
Kathy Mooney: Last April, the state of Michigan began offering a 40 to 42 percent tax break -- depending on what area of Michigan you shoot in -- for filmmakers that come to shoot features or television shows. It doesn't cover commercials yet. So that's when the flood of filmmakers began to consider Michigan.
Janet Pound: There are supposed to be 40 or more movies coming up that are already slated to be shot in Michigan. And they're in the process of building sound studios so they can shoot all year round. Most of the actors come from the Detroit metropolitan area. And what I find really exciting is that people coming to town are very impressed with our talent pool. If you were in another market -- say, New York or L.A. -- you might be able to find 50 80-year-old men who are bald character actors. We can give you that, but we can't give it to you in that volume. And people have said that they were very impressed with our actors and wondered why our talent pool was so strong. I think it's because we have really good theatre schools.
Mooney: We have the University of Michigan and Wayne State University -- they just have outstanding theatre programs. Also we have very strong legitimate theatres in Michigan that even in hard times are still moving right along.
Where They Find Talent
Mooney: The first thing we do when we get a project: We break it down, send out our needs to all the agencies, and have them submit. And then, the thing that I love the most, we go out to the streets, we go to the theatres. For Gran Torino, Clint Eastwood insisted on authenticity. There are not -- that we could find -- Hmong actors, the Asian community featured in Gran Torino, so we go out and we recruit what our clients are asking for.
Pound: The girl [Ahney Her] who played Sue, the sister to Thao, we found her at a Hmong soccer festival. She's never acted before. She's 16 years old and she lives in Lansing, Mich. And she was incredible. We ended up having a booth at the soccer festival, so that anybody who came by who was interested, we would take pictures. And then if we thought they had potential, we would bring them in and have them audition. The actress [Choua Kue] who played the cute little Yum Yum girl, she was actually taking her sister to an open call and she ended up getting the part. She wasn't even going to audition. She was just rehearsing lines with her sister.
Mooney: We try to go to everything. Janet and I even go to high school plays. We go to Hilberry, which is Wayne State. Janet was just at U of M. We try to go to regional and local and school plays as often as possible. I take notes and write in the programs, and I keep them.
Advice to the Players
Pound: For movie auditions, they should absolutely have the part memorized. And then, of course, the standard: Have your headshot and résumé the same size, have it adhered to the back, have the important info on it. Make sure that you don't fabricate things, because it does come back to haunt.
Mooney: Another important thing: Even if it's only an under-five part, interpret the character and come in with your interpretation of it and deliver that first. But then really pay attention to the redirect. If the director is in, or the producer or Jan and I, a lot of times just to see range we'll ask them to deliver it in a whole different way. And they should be able to have a quick think and change it around to whatever direction they've been given.
Pound: And during an audition, don't ever apologize for what you did. A lot of times the actor will say, "Oh my God, that was horrible." The director may have loved the person, but that puts a thought in his head he may not have had. So never be negative. Ask, "Could I try it again?" But don't berate yourself.
Audition Stress Busters
Mooney: An odd little thing I tell every actor that I think is really important is that they should take a meditation class or do yoga, because that will keep you in the moment, since it takes away the nervousness. As a matter of fact, a really good actor I know takes five minutes and does a five-minute meditation before he walks in, and he just nails the audition every time because he gets really in the moment. Yoga and meditation: I think both of those, for actors, are must-dos, besides getting the coaching.
We Love Show Business!
Mooney: We just love this industry to start with. The best part of my job -- after all the auditions, after the hunt to find what the film is looking for -- is I love to go out to the set and watch the directors and the actors. I just sit on the side. Not to chat or visit or anything, but just to watch the filmmaking process going on. I love it.
Pound: And my favorite part is being the conduit to somebody else's dream. For Whip It! they wanted a kind of obnoxious football-player guy. And there's this great actor that Kathy had met at an open call once, so she thought to bring him in for this part. And I called him up and I said, "I just wanted to let you know that they picked you for the part of the football player. Drew Barrymore loved you." And I said, "Are you jogging or something? You sound like you're out of breath." And if you met the guy, you'd crack up: He said, "No, I'm just sitting on my couch crying." It was so adorable. There's another, older actor who has cancer, and I was hoping and praying that he would get this one part in one of these movies just for a fabulous pick-me-up in his life. And sure enough, he got the part. And to call him up and say, "Guess what: They cast you in this," it was just magnificent.
The mailing address for Pound & Mooney Casting is 1751 East Lincoln, Madison Heights, MI 48071. Email:PoundMooneyCasting@gmail.com. Website:www.poundmooneycasting.com. Do not phone.