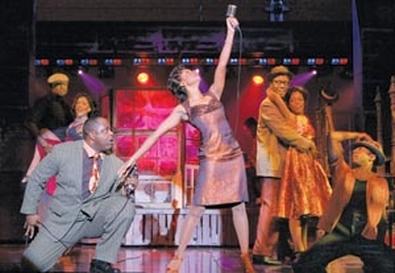 When the producers of the new musical
Catch Me if You Can
come to Seattle's 5th Avenue Theatre this summer for the show's pre-Broadway engagement, those involved are hoping for a
Hairspray
redo.
Considering that
Catch Me
is another movie-to-musical adaptation of a hit film, an equally boffo musical is not entirely a pie-in-the-sky fantasy, especially given that much of the creative team—including producer Margo Lion, director Jack O'Brien, and composer-lyricists Marc Shaiman and Scott Witman—also worked on
Hairspray
in 2002 at the 5th.
But even if
Catch Me
bombs out of town or never makes it to Broadway, the city won't suffer the slightest dent in its status as one of the country's hubs for new and developing plays and musicals. San Diego, San Francisco, Denver, and Chicago may have their boosters, but a season without world premieres on the boards in Seattle is like an April without umbrellas.
Two of the area's main theaters are structured and positioned to give their audiences new musicals: Broadway-bound at the 5th and in-development at the Village Theatre, which has performance spaces in nearby Issaquah and Everett, Wash. Other award-winning Seattle venues—such as Intiman, Seattle Repertory Theatre, and A Contemporary Theatre—have built their national reputations on launching the plays of artists that include Wendy Wasserstein, Craig Lucas, and Steven Dietz, as well as frequent Broadway directors Daniel Sullivan (artistic director at Seattle Rep from 1981 to 1997) and Intiman's Bartlett Sher.
Everyone Into the Pool
There are plenty of reasons a Broadway producer or an established playwright would choose a Seattle venue as a tryout—and thus equally strong justifications for the more than 418 active members of Actors' Equity Association who choose to call the city home. It's not because you can get a good cup of coffee on every street corner or easily find tech support when your Windows crashes. Rather, it's the culture, which makes for a smart and sophisticated audience; the scenery; and the artistic vibe.
"Producers and directors are rediscovering that there's a huge talent pool here," says Carol Swarbrick, who lives in Sequim, Wash. "It's really amazing. Actors in Seattle can make a living on stage." There's also voiceover work, the video-game industry, commercials, and the occasional movie.
And the groundwork is laid for producers looking to work out the early kinks and get audience feedback. DreamWorks Theatricals chose the 5th for its first musical,
Shrek
:
The Musical
, and received anything but an ogre's welcome. Says the show's producer Bill Damaschke, "Everyone enjoys the city and the restaurants. The city is spectacularly beautiful. The people are friendly and lovely and generous. Everyone went out of their way to make us feel welcome. Doing a new musical out of town is one of the hardest things ever. They know that, and they understand and do everything they can to make you feel at home."
Even the physical distance from the major entertainment hubs of New York and Los Angeles is a draw. "Certainly, even with the Internet, it's good to be geographically a little farther away," says Sue Frost, producer of
Memphis
, which moved from Southern California's La Jolla Playhouse to the 5th with an eye toward Broadway in fall 2010. "To be in a place where it's understood what you're trying to do—by the press, by the audience, by the staff—it's a great bonus."
Allan Fitzpatrick calls Seattle home for at least part of the year. A bicoastal actor with numerous Broadway credits, Fitzpatrick came to the 5th in 2002 to play the title role in
Sweeney Todd
:
The Demon Barber of Fleet Street
and has returned many times, working at the area's regional theaters and even starting the Icicle Creek Theatre Festival in Leavenworth, Wash.
"It's a great physical environment, the way the city is laid out," Fitzpatrick says of Seattle. "The city is very accessible, and it's much less expensive than other major cities. The people are friendly. There's a great West Coast, liberal tolerance in the attitudes here, and the theater community is a very tight-knit,
committed, and positive group of people."
Fitzpatrick recently finished up a run in
Sunday in the Park With George
, which was restaged by British director Sam Buntrock at the 5th following his productions at England's Menier Chocolate Factory and on Broadway. Although the production was anything but a premiere, the 5th was the only theater to get the show with all the original costumes and scenery. The cast, which featured Broadway vet Hugh Panaro in the title role, was made up almost entirely of Seattle actors.
New and Used
Catch Me if You Can
with Norbert Leo Butz, Kerry Butler, Tom Wopat, and Aaron Tveit comes to the 5th in July, following a tour of
Grease
. A Contemporary Theatre will usher in the summer with a mounting of
The Break/s
:
A Mixtape for the Stage
, by Marc Bamuthi Joseph, followed by a remounting of
Das Barbecü
, a comic adaptation of Wagner's Ring cycle commissioned by Seattle Opera in 1991, now set to coincide with the return of
The Ring
at Seattle Opera. At the Intiman, after a revival of Herb Gardner's
A Thousand Clowns
, Sher—who won a Tony for directing
South Pacific
and is currently nominated for
Joe Turner's Come and Gone
—returns to direct Shakespeare's
Othello
.
In Issaquah, the Village Theatre will close its summer with the West Coast premiere of the medieval romance
Chasing Nicolette
. There's also Village Originals, an annual summer festival that gives audiences a first look at several new musicals. Village Originals shows that have gone on to successful productions include the regional favorite
Eleanor
and
Million Dollar Quartet
, which continues a hit run at Chicago's Apollo Theatre. Another acclaimed musical that got its start in the series is
Next to Normal
; book writer–lyricist Brian Yorkey is an associate artistic director at the theater, and the show had an early reading in Seattle under the title
Feeling Electric. The Gypsy King
, a comic musical about a father-and-son acting duo, will hit the Village mainstage in March 2010 after a developmental workshop this year.
"We're positioned more in the early phase of developing shows which may or may not go to Broadway but which will probably go on to regional theaters," says Village executive producer Robb Hunt. "I was one of the founders of this theater. [Artistic director] Steve Tomkins and I have been able to shape its mission, and it's a mission we strongly believe in. We're able to develop new musicals, and we've got an audience that appreciates that. It's not the largest market in the world, but we really like it, and we've stuck with it."
Considering the theater's 30-year history of workshopping and producing new musicals, the Village Originals festival is a frequent destination for tourists. This summer, a joint arrangement between the 5th and the Village coincides with the National Alliance for Musical Theatre's summer summit. Musical theater aficionados will converge on Seattle in time to take in a performance of
Catch Me
.
For out-of-town, all-eyes-on-Seattle theater events, though, it's tough to top the 5th. Beginning with
Hairspray
, the 5th has hosted an impressive string of pre-Broadway tryouts. "In a 12-month period, we will have done
Shrek, Memphis
, and
Catch Me if You Can
," says artistic director David Armstrong. "That's kind of mind-boggling for us." Not everything has struck gold, of course.
Princesses
and
Yankee Doodle Dandy
did not make the leap, and
Lone Star Love
garnered more press for the Equity complaint filed by its cast against star Randy Quaid than for its merit.
The 5th was in discussions to house the premiere of Mel Brooks'
Young Frankenstein
, but, according to Armstrong, the physical demands of the show forced the producers to take it to the Paramount in 2007. That year
The Light in the Piazza
—the Intiman's first musical, a premiere presented four years prior—returned to the Paramount.
Rooting Around
Tony-nominated actor Patti Cohenour (
Edwin Drood
), who lives an hour outside of Seattle in Gig Harbor, was part of the original company of
Piazza
, and she traveled with the production to Chicago and New York. Nowadays, Cohenour says it takes a special project to uproot her from the Pacific Northwest for an 18-month commitment, especially given the performing opportunities available so close to home.
"You realize that the quality of life is very important," says Cohenour, who is part of the
Sunday in the Park with George
cast. "My husband is a maritimer. He has saltwater in his veins, and he didn't want to be in New York anymore. I'm from Albuquerque, N.M., so it's all about mountains and space. It kind of fed into both our psyches."