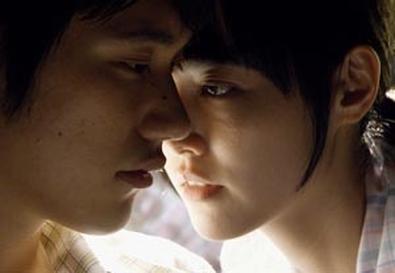 The fragility and cruelty of young love has rarely been so beautifully captured as in "Norwegian Wood," a gorgeous but flawed melodrama by writer-director Tran Anh Hung.
The creator of "The Scent of Green Papaya" has found a kindred spirit in Japanese novelist Haruki Murakami. The two share a belief in what the director calls "beauty within suffering," which is plentiful in this story. Nearly every character is struggling with a complex set of competing emotions, which are vividly on display in the large number of tight close-ups Hung uses of their beautiful faces.
The drama starts early: In 1960s Japan, teenagers Kizuki (Kengo Kôra) and his girlfriend, Naoko (Rinko Kikuchi), are inseparable from Kizuki's best friend, Watanabe (Ken'ichi Matsuyama). When Kizuki suddenly commits suicide, Naoko is inconsolable. The young woman quickly moves away without telling Watanabe.
A few years later, Watanabe—now a university student—runs into Naoko. After a slow courtship, the two become lovers. But the damaging emotional effect of Kizuki's suicide is never far away. In an intimate moment, Watanabe asks Naoko why she and Kizuki never made love. The question shatters Naoko, as well as their budding relationship. Watanabe doesn't see Naoko again for more than a year, until she resurfaces to reveal she is living in the care of a kind therapist, Reiko (Reika Kirishima), in a remote mountainside resort.
In the meantime, Watanabe meets Midori (Kiko Mizuhara), an outgoing young woman. Midori is the polar opposite of the gloomy and fragile Naoko. Midori pursues Watanabe; he is resistant but later becomes involved with her. As Naoko's mental health fragments, Watanabe is more drawn to Midori, but he never completely can bring himself to leave Naoko.
The women are the best parts of the film. Kikuchi—perhaps best known for her breakout role in "Babel"—is luminous as Naoko. Her transformation is delivered in increments as she loses touch with reality. What could have easily been a shrill caricature of encroaching madness is made sympathetic by this talented actor. Mizuhara is also strong, but her character has fewer opportunities to show dimension; she makes the most of them. As Watanabe, Matsuyama lurches from weakly sullen to manipulative, without much in between.
Mark Lee Ping Bin's cinematography is gorgeous; you feel the chill of the spare mountain landscapes like few movies have shown before. Unfortunately, though the first two-thirds of the 133-minute film are engaging and emotionally rich, director Hung loses control toward the end. The pace begins to drag; the transitions become awkward and the plot lines muddled. By the last half hour, the characters have transformed into clichéd versions of their earlier selves. That is a shame, considering the film's very promising start.
Written by Tran Anh Hung
Directed by Tran Anh Hung
Starring Ken'ichi Matsuyama, Rinko Kikuchi, Kiko Mizuhara, Reika Kirishima, Kengo Kôra, Eriko Hatsune, Tetsuji Tamayama