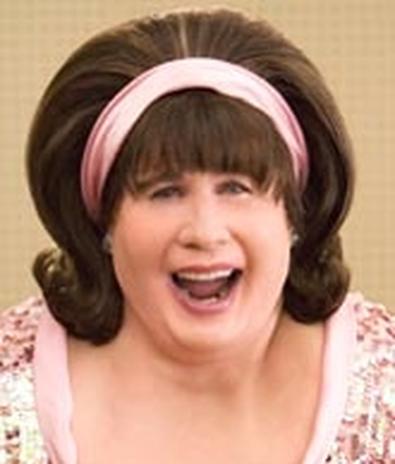 John Travolta's spectacular gender-bending performance in Hairspray — donning a dress, wig, and body padding to play ample-girthed 1960s housewife Edna Turnblad — reaped myriad rewards for the actor. A two-time Oscar nominee (for Saturday Night Fever in 1978 and Pulp Fiction in 1995), Travolta may have his third shot at Academy recognition with this sparkling performance, positioned by New Line Cinema in the supporting actor category. Nods from the Golden Globes and other awards organizations also seem like strong possibilities.
Travolta, who started out on the stage (Grease, Over Here!) and television (Welcome Back, Kotter), has enjoyed a long film career as a leading man in comedies (Look Who's Talking, Get Shorty), action films (Face/Off), and dramas (Phenomenon). These followed his early-career breaks as a working-class disco king in Saturday Night Fever and a matinee heartthrob in the 1978 film adaptation of the Broadway musical Grease, released six months apart, and subsequent dance-filled dramas such as Staying Alive and Urban Cowboy. Travolta considers Hairspray, his first full-fledged musical since Grease, as a bookend to the career high point of Grease. Both are rock-based tuners centering on high school students. "First of all," he says, "it's interesting that Grease and Hairspray are now the No. 1 and No. 3 all-time [box office] record-holders [for film musicals]. Right now it's Grease, Chicago, Hairspray. In some ways, Hairspray is almost a sequel to Grease, because Grease took place in 1959, Hairspray in 1962. They both reflect on what's going on in other sectors of life during the end of an era and the beginning of a new one. And the films share that contagious feeling of high spirits."
The Woman Within
Travolta says that in contrast to previous approaches to the role of Edna, he felt it was better to portray her as a real woman in this film adaptation of the 2002 Broadway musical (based on the original 1988 film by John Waters), rather than a camp parody of femininity. When the role was offered, why did it take him a year and a half to accept it?
"Musicals are tricky," he says. "I didn't want to hurt the special spot I hold: being in the No. 1 musical of all time. I mistakenly turned down Chicago, but that was because I never met with anyone to hear the vision. The play was kind of cold-hearted. I didn't know if they were going to solve that, but they did." The role Travolta nixed ultimately went to Richard Gere, and the film won best picture at the 2003 Academy Awards. When Hairspray producers Craig Zadan and Neil Meron approached Travolta, the actor decided he wasn't going to make the mistake again. "I set up meetings," he says, "and saw what their vision was. As the original movie of Hairspray was sort of an avant-garde set piece, I was wondering what could be done to make the musical more viable and possibly more commercial."
On stage, Harvey Fierstein and Bruce Vilanch had played Edna to broadly comic, basically burlesque, effect. "I knew Craig and Neil went for me because what works on film is different from what works on stage," Travolta says. "And although I'm from the stage originally — 16 years of it — I wouldn't have been the right choice for the stage show, because it needs that drag aspect. It's not intimate. There's a built-in distance, so you need to point out the humor of a man playing the part. Whereas in a movie, I think it's more fun to disappear into the role, because it's so close up. In Primary Colors, I tried to bury myself behind Bill Clinton. It's more fun and challenging to do that. And when I met with [director-choreographer-executive producer] Adam Shankman, I realized how deeply he had his heart and soul vested in this. He said that if it didn't work, he didn't know what he would do. It was a very passionate statement."
Once Travolta accepted the offer, he turned his focus to how he wanted to interpret the role. He says, "I had a vision of Edna, even when I saw Divine do it [in Waters' film]. I decided to make Edna a composite of all the great women I have known and the great female performances I've seen." He decided the key thing about Edna is that she is filled with wonderful qualities. Then he had to consider the physical challenges of bringing her to life. "I suddenly realized I had never been asked to soften the lines of my movement. If anything, I had been asked to strengthen them because of the kinds of extreme machismo I usually play. I also decided she could be a strong woman, with some sexuality in place of matronly qualities. There are women that age who are still very sexy. I also thought enthusiasm and high spirits would make her seem more youthful. Once she got her zest for life back through her daughter, she could sparkle like she did 20 years before."
Family Affair
Another element that greatly enriches Travolta's portrayal is poignancy. "Once Edna recaptures her spirit and tries to celebrate, she gets shot down by others," he says. Travolta sees this as the film's theme, which carries through to Edna's overweight daughter Tracy, scoffed at and eliminated from a dance-show competition by the haughty and bigoted Velma von Tussle (Michelle Pfeiffer), and to the black youngsters, also shunned by the show and ostracized by their peers. Travolta's decision to play Edna more as a multidimensional human than as a freakish figure meshed with the conviction of the producers and the creative team that the screen medium called for a more realistic approach to the material. The actor says the film version incorporates more genuine emotion, noting that the stage musical fully focuses on light entertainment.
He adds, "Knowing that Divine was a drag performer instantly gave that kind of feeling to his character. There was no effort to hide that he was a man. I wanted to hide that I was. I thought it would be fun and innovative to do it this way. I told Adam, 'If you see any trace of a guy, come at it and stop him.' He did. I also wanted to make sure there was more of an arc to build to the end, when she comes on like, 'I am woman, hear me roar,' finally being comfortable with herself." Travolta insisted that Edna shouldn't be unattractive. He explains, "I told them, 'Let's make her Delta Burke or Elizabeth Taylor gone fleshy, not unwatchable or grotesque. We need tight close-ups.' So we worked to make her smooth-skinned and pretty — not gorgeous but attractive."
Was this role among Travolta's biggest challenges? "I think to go for it the way some think I should have done it, it might have been easier, because I wouldn't have to try hard to disappear. I had to make myself into this completely other person. I knew it was working well once other actors — Christopher Walken as my husband and Nikki Blonsky as my daughter — began relating to me as a real woman, a good parent and good spouse." Will Travolta consider doing more musicals in the future? "I've always been in the mood to do a musical. I just wanted to do the right one. They're so few and far between, especially since in most musicals the best leading roles are for women. I feel like doing this wonderful movie is my long-delayed reward for doing Grease."