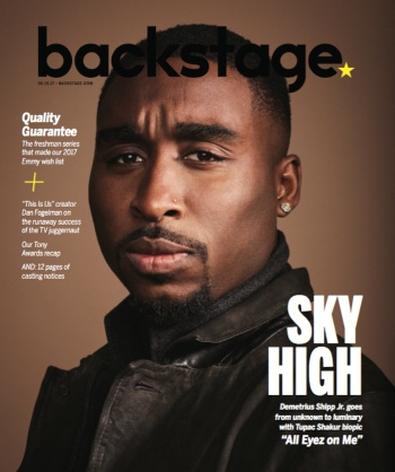 There were times when Demetrius Shipp Jr. felt like the role he'd been chasing for years might slip away from him. It all started as a lark. He'd heard from various friends that there was an open casting call for an upcoming Tupac Shakur biopic. And while the California native didn't have much interest in being an actor (he wanted to follow in his father's footsteps and join the music industry), his uncanny resemblance to the late rapper was enough to convince him he might actually have a shot. He sent in a tape and hoped for the best. That was in 2011. Little did he know it would take years for the project to find its feet and plenty more before the guy whom his Target co-workers would call "Tupac" over the intercom would land the leading role in this summer's "All Eyez on Me."
More than 20 years after the rapper was killed, Benny Boom's biopic is set to tell the story of how an East Harlem kid became one of the best-selling musical artists of the late 20th century. Or, as Tupac himself put it in his song "I Ain't Mad at Cha" (from the album that gives the film its title), how he went from a nobody to "the big man on the block." Named after a Peruvian revolutionary and born into a family with ties to the Black Panther Party and the Black Liberation Army, Tupac cannot be thought of without addressing the political urgency that made so many of his songs resonate with audiences and critics alike. "All Eyez on Me" looks beyond the music, beyond the legend, and gets at Tupac, the man.
It's what made finding a leading actor who could embody the outsize persona Tupac has become in our collective imagination all the more difficult. As Shipp recalls the many times he was brought in over the years to read for the film's producers—which include L.T. Hutton, who'd worked with his father, Demetrius Shipp Sr., back in the day at Death Row Records—he stresses how implausible the idea of landing the part of Tupac felt for such a green actor. Sure, he'd shaved his head, worked out, and even pierced his nose to look even more like the music icon, but Shipp couldn't help but feel dejected when an audition for the role would be followed by months of silence. Rather than take that to heart, the aspiring music producer merely kept doing his thing, working away in the kind of 9-to-5 jobs he'd had since he was 18.
READ: The 10 Best Survival Jobs for Actors
By the time producers called him up again in 2015, Shipp was cashing disability checks from an employer who would let him go soon thereafter and trying to hustle up enough cash to provide for the two children he'd recently fathered. "I wasn't in the position to fiddle with something that wasn't guaranteed," he admits. "I was really reluctant to go." Thankfully, his mother egged him on. And it was his best audition to date. "That was the one that I walked out on feeling like, Damn!—it was that moment where I felt I could do it."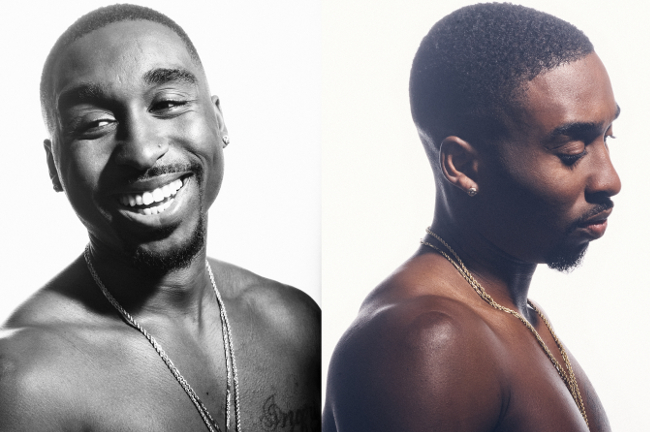 Where others might look back with bitterness at the arduous and seemingly endless process, Shipp is mostly at peace with how it all ended up. "I just have to remember that everybody has their time. Honestly, at 22, there's no way I could've pulled it off. I wasn't ready," he says. "I was still in the shell. I didn't possess the confidence that I needed to pull this off. I was a little too reserved for this. Acting opened me up."
It was one of the many lessons he learned while shooting "All Eyez on Me." In fact, the entire Atlanta-based shoot was a kind of hands-on master class for the young actor. Arriving on set that first day, he felt the experience would be unlike anything else in his life. "It was like a whole new world. On the day I arrived there were trailers and people everywhere! I remember it very clearly. I went to my trailer. It said 'Tupac.' And I thought, It's really happening! It was all new. And it was real. It was crazy to be there, all those years later."
His first scene was with Hill Harper ("CSI: NY"), who plays a journalist interviewing Shakur while in prison, where the rapper served nine months on sexual assault charges. Shipp was as prepared as he was going to be and ran his lines with Harper before they started shooting. But he immediately knew his co-star was going to challenge him to be better on every take. After running their lines a few times, he saw Harper starting to take notes and keeping his performance close to the vest, giving his younger scene partner a piece of advice that helped him throughout the shoot.
"He was like, 'Save it for the camera. You want it to be natural when the camera comes on. You want to try stuff when the camera comes on. Do something that your fellow actors don't expect, because it'll draw a reaction that will play well.' "
Working opposite Harper felt like a chess match. With every new take, the "Covert Affairs" actor ad-libbed new questions, hoping to get a genuine and exciting reaction from Shipp. For someone who'd had Tupac on his mind for the better part of five years, the scene with Harper managed to make the budding actor learn on the fly what it meant to turn many months' worth of research into candid moments on camera.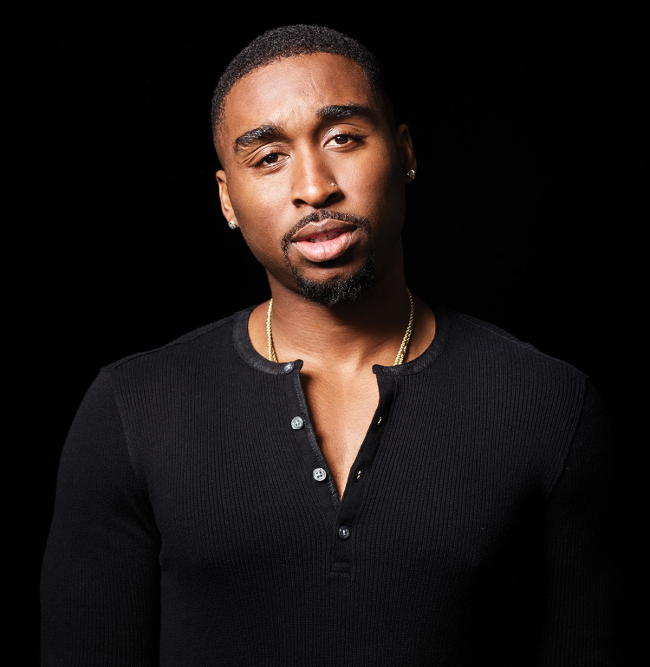 "I studied him as much as possible. I learned an interview of his that was, like, eight minutes long—verbatim. I wanted to get the mannerisms down, and the speaking patterns. I would turn it on, sit in front of the TV, and record myself saying the interview. Then I'd watch it back and make some changes. Every night, I would just turn Tupac on the TV and just let it run all night until I fell asleep."
More than that, he worked closely with an acting coach to get inside Tupac's mind. That meant reading up on the Black Panther movement, picking up "The Art of War" by Sun Tzu, "The Autobiography of Malcolm X," Maya Angelou's "I Know Why the Caged Bird Sings," and plenty of William Shakespeare to better understand the music legend whom many still mostly associate, as Shipp told Backstage, with many negative stereotypes that surround black rappers. "People still forget that he died when he was so young. But the way he was speaking at 22 years old—it was powerful. I wish I had one ounce of that!"
Getting to mine the various facets of Tupac is one of the things Shipp feels most proud of. "Everybody has their own Tupac that they love. Some people love the rapper for the music. Some people love the Thug Life Tupac, the middle-finger-in-the-air guy. Some people love the voice for the people, the 'Keep your head up!' Tupac—and you get to see all of that here."
At this point, Shipp knows that he'll forever be tied to the rapper. But it is his ambition to not be defined by the role. He knows his next step will be crucial if he's to follow his newfound desire to become a serious actor. That's why he's not too keen on taking any offer that comes his way; a breakout role may put you on the map, but he doesn't want this to be a one-hit wonder scenario.
"I want the next thing people see me in to get people to say, 'He's an actor. He's made for this.' "
Are you a new actor hoping to land a role you're passionate about? See Backstage's film audition listings!
Styling by Wayman + Micah. Shirt by John Varvatos.