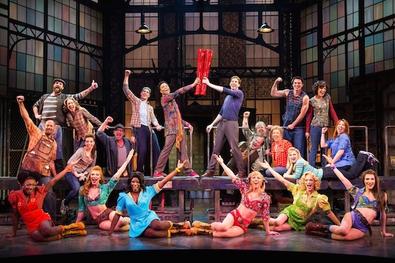 "Kinky Boots," the 2013 Best Musical Tony Award winner, is holding New York City auditions for an upcoming nonunion touring production, and we have all the details you need to apply. Plus three more gigs seeking talent nationwide!
"KINKY BOOTS" NATIONAL TOUR
A nonunion touring production of the Tony Award winning Best Musical "Kinky Boots" is casting. Auditions will be held by appointment in New York City on May 31 and June 1 for lead, supporting, and ensemble roles. The production will open Sept. 18, with hired talent contracted through May 13, 2018. Compensation will begin at $450/week, with per diem, travel, housing, and health insurance also provided.
"CRACKED"
"Cracked," a short film depicting a woman who "takes out the frustrations of her marriage onto her new neighbor," is casting for a lead and supporting role. Production is slated for June 28–July 2 in Los Angeles. Hired talent will be paid $150/day, as well as provided meals and copy.
"BAD MOM'S CHRISTMAS"
Background actors are needed to depict Christmas carollers in the upcoming feature, "Bad Mom's Christmas." Talent will be needed for shoots Mar 26 and 27, as well as June 13 and 14 in Atlanta, Georgia. Pay will be $88/10 hours.
"HARMONY"
Actors are needed for two leading and three supporting roles in "Harmony," an indie sci-fi feature. The project will shoot July 29–Aug. 6 in the Fairfax, Virginia area. Pay will be $125/day. Meals, copy, and credit will also be provided.
Head over to Backstage's casting calls for more great gigs like these!