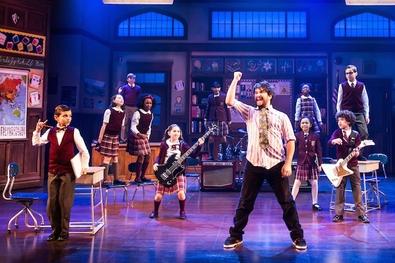 You're in the band! Well, not yet, but today's casting roundup gives you a shot to get your rocker on. Broadway's "School of Rock" will hold an open casting call for the leading role of Dewey Finn, plus three more paid gigs below!
"SCHOOL OF ROCK"
Andrew Lloyd Webber and Julian Fellowes' Tony-nominated "School of Rock" will hold an open casting call for the leading role of substitute teacher-turned-band-leader Dewey Finn. Talent will be seen Feb. 28 in New York City, with a first performance slated for March. Union and nonunion actors, ages 20–40, are welcomed to audition.
PEACE CORPS, "THE VOLUNTEERS"
Talent is needed for three leading roles in a 60-second PSA calling for Peace Corps volunteers. The spot will shoot late March in New York City and pay $300/day, in addition to 15% agency fee.
"JOAN"
"Joan," a student film "about a female artist watching her grandfather's funeral online," is casting talent for the title character as well as two supporting roles. Rehearsal is slated for the end of March in Los Angeles, California. Hired talent will be paid $100/day.
CLEANING PRODUCT PROMO VIDEOS
Male and female talent of all ages are needed for a series of promotional videos for cleaning products. The gig, which will involve "light cleaning responsibilities," is slated to shoot Feb. 27 in locations around northwest Georgia. Compensation will be $150 for a half day and $250 for the full day, with light Craft Services on set.
Head over to Backstage's casting calls for even more jobs!

And visit our YouTube channel for advice to nail your next audition!