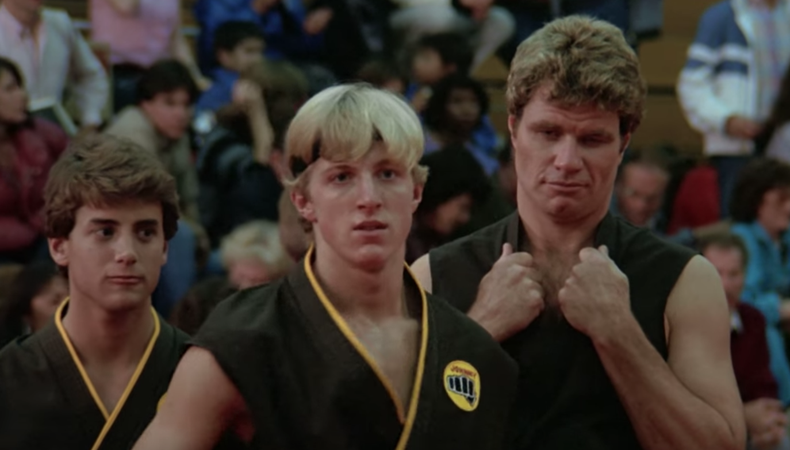 Wax on, wax off, and go after what you've worked so hard for in today's casting roundup! "Cobra Kai," the YouTube Red series set 30 years after the events of "The Karate Kid," is continuing its search for extras. Plus, how can you resist a lead or ensemble role in an upcoming Equity production of "Mamma Mia," the lead in a short film about a teen's need for escape, or even a pair of roles in a racy, romcom about treating yourself?
"COBRA KAI"
Casting continues for the new YouTube Red series "Cobra Kai," starring Ralph Macchio and William Zabka and focusing on the reopening of Cobra Kai dojo and the reignition of the rivalry between Johnny Lawrence and Daniel LaRusso. Male and female talent, aged 8–80, are wanted to be extras in a big upcoming scene, shooting Nov. 29 in Fayetteville, Georgia. Some pay will be provided. Apply here!
"MIKE'S EXPEDITION"
"Mike's Expedition," a short film about 17-year-old Mike trying to escape from society but failing miserably, is currently casting several roles. A male actor, aged 16–18, is wanted to play Mike. There are also several additional roles, including Mike's parents and sister, available for talent, aged 20–68. The film will shoot in December in the Greater Los Angeles area. Pay is $125 per day, with meals and travel provided. Apply here!
"MAMMA MIA"
Casting is currently underway for an upcoming Arkansas Repertory Theatre of "Mamma Mia," the jukebox musical based on the songs of ABBA. Union male and female talent, aged 18-47, are wanted for several roles in the production, including Sophie, Donna, and more lead roles. Rehearsals begin Feb. 20, 2018 and the show runs Mar. 16–Apr. 22 in Little Rock, Arkansas. Pay is $656 per week. Apply here!
"CHEAT DAY"
"Cheat Day," a racy and romantic short comedy about treating yourself, is currently seeking a pair of actors for lead roles. A male actor and a female actor, both aged 40–60, are wanted to play fitness enthusiasts—one witty and looking for excitement, the other charming with a belief he's got it all figured out. The film will shoot Dec. 10 in Los Angeles and shoot Dec. 16–17 in Galveston, Texas. Pay is $300 per day, with travel and meals provided. Apply here!
Want to see even more gigs? We've got 'em in our Backstage casting calls!