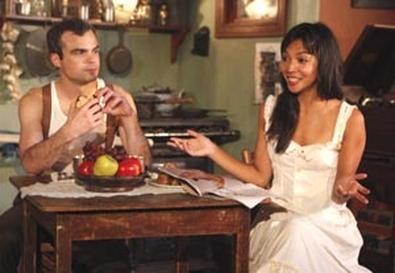 There is an embarrassment of riches to be found at Ars Nova with the premiere of playwright Carly Mensch's gorgeous one-act "Now Circa Then." Commissioned by Ars Nova and directed by its artistic director, Jason Eagan, the play finds almost everyone involved at the top of their game.
A hilarious peek into the world of historical re-enactments—here, those at New York City's Tenement Museum on the Lower East Side—while also providing a glimpse into the world being re-created, "Now Circa Then" revolves around re-enactors Gideon (Stephen Plunkett) and Margie (Maureen Sebastian). Gideon has made a career out of re-creating historical figures; Margie, a fresh transplant to the city, took the job because it was a job. When she and Gideon first begin working together, she's both awkward and inappropriately perky, like a head cheerleader cast as Laura in a high school production of "The Glass Menagerie." But as they fall in love, Gideon and Margie have to confront the ways in which their pasts affect their shared present.
From Lauren Helpern's clever re-creation of a Tenement Museum apartment (Helpern is quickly becoming a bright light on the Off-Off- and Off-Broadway design scene) to Eagan's sympathetic and precise direction, everything about "Now Circa Then" clicks. Plunkett and Sebastian have both shined in previous roles, but those performances gave no indication of the level of talent they display here. Both actors take Mensch's multilayered and detailed script—Margie's heritage, she says, is "eating corn on the cob and watching Harrison Ford movies," which instantly conveys a precise Midwestern past for her—and elevate it to another level. But neither they nor Eagan stints on bringing to life Mensch's wonderfully oddball sense of humor.
In their remarkable chemistry—in love, Margie and Gideon are the couple you're envious of—and the finely orchestrated and wholly believable breakup, the actors take what could have been a cutesy story and illuminate the depths of Mensch's script. No one is ever entirely free of the past, and Eagan and his cast bring the subtext to the surface without battering us over the head with it. "Now Circa Then," perfectly cast and executed, fulfills the potential of theater circa now.
Presented by and at Ars Nova, 511 W. 54th St., NYC. Sept. 27–Oct. 9. Tue.–Sat., 8 p.m. (Additional performance Mon., Sept. 27, 8 p.m.) (212) 352-3101, (866) 811-4111, www.theatermania.com, or www.arsnovanyc.com. Casting by MelCap Casting.