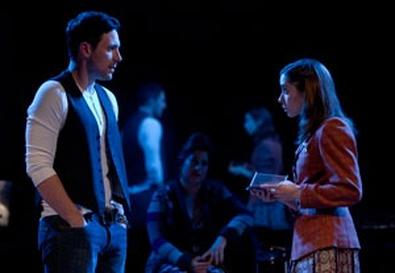 The tiny independent film "Once" became a sleeper hit in 2007 on the strength of its charm and simplicity. Director-screenwriter John Carney's almost skeletal story of a Dublin street musician falling for a bewitching Czech émigré enchanted audiences with its unapologetically sentimental love story and forthrightly folksy score by its stars, Glen Hansard and Markéta Irglová, featuring the hypnotic Oscar-winning song "Falling Slowly." Now a stage adaptation has the chance to weave a similar spell on Broadway, after a hit run at Off-Broadway's New York Theatre Workshop earlier this season. Some of the intimacy is lost in the transfer to the Main Stem, but the musical maintains its warm and enveloping embrace as well as the quiet power to move and entrance.
The basic plot, if you can call it that, remains about the same as in the film. An Irish busker, referred to only as Guy, is ready to throw away his guitar and give up music because his ladylove has left him to move to New York City. But he meets Girl, herself a musician and songwriter, who hears one of his impassioned ballads and encourages him to record his works and pursue his dreams of becoming a successful musical artist and winning back his former amour. They manage to raise the money to rent a studio, gather a ragtag pickup band, and fall in love. But Girl's marital status—she has a husband at home in the Czech Republic and a little daughter with her in Dublin—and Guy's commitment to his distant girlfriend prevent them from taking their unrealized romance any further. He flies to Gotham, she remains in the Irish capital, but their bond of music still connects them.
Some of book writer Enda Walsh's embellishments on Carney's original screenplay are a trifle contrived. Several supporting roles have been beefed up or invented. The music-store owner, who was barely a walk-on, is now a buffoon with illusions of being a ladies' man and a karate expert. The heroine's Czech neighbors, who appear for a few seconds in the movie, are now a goofy crew of funny foreigners with an addiction to an Irish soap opera. These characters could have come across as comic clichés, but director John Tiffany and his cast welcome their kookiness and play them with an endearing sincerity. They may be ridiculous, but they have specific aspirations and objectives, however outlandish, which they passionately pursue.
The main thread uniting all of these diverse dreamers is the search for love and a love for music. That drive is beautifully expressed in Tiffany's clean, clear staging and Steven Hoggett's imaginative movement. Even the audience get into the act, as they are invited onstage before the show and at intermission for drinks on Bob Crowley's cozy pub set. A bonus is watching the cast members, who play all the instruments, giving a raucous preshow Dublin songfest.
Cristin Milioti brings new meaning to worn-out adjectives such as "gamine" and "pixyish" as the enigmatic Girl. With a deadly deadpan and a sweet smile, she delivers sarcastic zingers like a charming assassin one minute, and the next she's a lost little waif playing heartstrings as easily as she does the piano. She is matched perfectly with Steve Kazee, who imparts the bruises and batterings of Guy's ruined romance in a voice so raw and strong it wounds. When they get together, the spark between them charges through the Bernard B. Jacobs Theatre like electricity. At their parting, my heart broke along with theirs.
David Patrick Kelly is gently loving as Guy's dad, while Anne L. Nathan makes for an amusingly tough mother for Girl. Paul Whitty, Will Connolly, Lucas Papaelias, and Andy Taylor provide many yocks and bracing backup as the motley band. Elizabeth A. Davis is sharp and sultry as Girl's seductive Czech pal. Add Natasha Katz's sensitive lighting and Clive Goodwin's pitch-perfect sound design and the result is an unforgettable valentine of a show that you'll likely want to take in more than once.
Presented by Barbara Broccoli, John N. Hart Jr., Patrick Milling Smith, Frederick Zollo, Brian Carmody, Michael G. Wilson, Orin Wolf, the Shubert Organization, and Robert Cole, executive producer, in association with New York Theatre Workshop, at the Bernard B. Jacobs Theatre, 242 W. 45th St., NYC. Opened March 18 for an open run. Tue., 7 p.m.; Wed.–Sat., 8 p.m.; Wed. and Sat., 2 p.m.; Sun., 3 p.m. (212) 239-6200, (800) 432-7250, or www.telecharge.com. Casting by Jim Carnahan/Stephen Kopel.