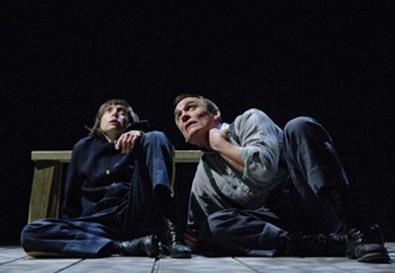 Nestled underground in the powder magazine of Governors Island's Fort Jay is a theatrical treasure. It's "Amelia," a riveting Civil War-era play made even more affecting by its site-specific setting. The tiny island in the midst of New York Harbor, dotted with structures dating back to the 1790s, has served as a prison camp for Confederate soldiers and was an active military post for more than 200 years.
Based on a true story, Alex Webb has crafted an ingenious tale of a Pennsylvania woman who masquerades as a man and treks south to find her husband, a Union soldier imprisoned at Andersonville. The narrative is historical, yet relevantly feminist, emotionally brutal, yet romantic, and constantly upsetting, yet amusing. Webb's remarkable contribution to this gem of a show, however, doesn't end with his brilliant writing.
The story is persuasively enacted by a two-person cast. Shirleyann Kaladjian plays Amelia, the gutsy heroine. A stellar actress, she invests her portrayal of the unusually bright daughter of a good-hearted farmer and his conventional wife with a penetrating intelligence and feisty humor. But the propellant that really fires the performance is Webb. He depicts all of the other characters in the story, of which there are many. The wide range of types, the conviction with which he portrays them, and the speed at which he transforms from one character to another are astounding. Observing Webb's work during the play's 95 minutes should count as a doctoral course in "Movement for Actors."
Webb's characters are largely drawn and distinguished from one another physically. Amelia's father has a bizarre limp that forces him to walk on the outside edge of one foot; as the silly, flirtatious Marie primly squeezes her thumb and forefinger together and sways side to side, we clearly imagine the wide hoop skirt she wears; Amelia's mother is always engaged in some sort of kitchen task, shown through pantomime, with no props whatsoever; and while he incorporates effective use of dialects to render different Yankee and Rebel army characters, every man Webb plays, including a runaway black slave, sports a highly individualized posture, set of gestural habits, and body energy.
Webb's speedy changes from one persona to another imbue the production with an urgent excitement, as the transformations often occur instantaneously, with a turn of the head or quick shift from a standing to a seated position. The actors' meticulously-timed work is buttressed by Bill Largess's artful direction, Marianne Meadows's simple lighting, and Stowe Nelson's realistic sound effects put forth at pitch-perfect volume levels. Out there on the island, in the cave-like performance space with no closed door, it is easy to believe that the recorded sounds of distant canon fire, horse's hooves, a bugle call, fiddle music, or a rippling stream are really coming from beyond the walls of the storied fort.
Each performance accommodates only a limited audience, so make a reservation, and plan your excursion soon.

Presented by All in Three Years, at Fort Jay Powder Magazine, Governors Island, NYC.
May 26–June 17. Thu.–Sun., 3 p.m. www.ameliatheplay.com.