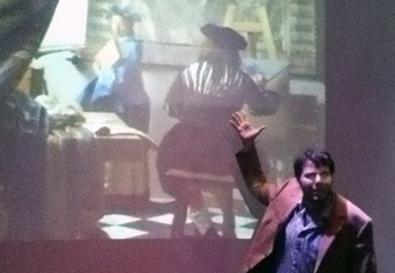 Not a show for the intellectually challenged, "The Art of Painting," written and performed by Mark Chrisler, is a masterful piece of heady writing. A 50-minute monologue, it fluidly interweaves juicy facts about the 17th-century Dutch painter Jan Vermeer, his famous forger, the art-historical contexts in which their paintings are situated, and riotous references to other famous artists, artworks, and Nazis.

Presented as a lecture delivered by a professor teaching a course titled "The Art of Painting" (after the Vermeer masterpiece around which the course content is centered), the production feels less like a play and more like a dramatic reading of someone's brilliantly constructed master's thesis. Chrisler delivers a wealth of information at a rapid clip, entertainingly capturing the pomposity of academic lecturers and their habit of speaking dismissively about anything they find uninteresting while adopting a tone of great reverence when discussing that which they find important.

Presented by Found Objects Theatre Group as part of the New York International Fringe Festival at Jimmy's No. 43, 43 E. Seventh St., NYC. Aug. 11–25. Remaining performances: Wed., Aug. 15, 7 p.m.; Sat., Aug. 18, 2:15 p.m.; Fri., Aug. 24, 8:30 p.m.; Sat., Aug. 25, 1:45 p.m. (866) 468-7619 or www.fringenyc.org.