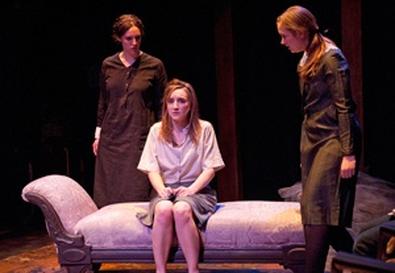 "The Ash Girl" is a little play from 2003 by Timberlake Wertenbaker, who wrote "Our Country's Good," currently being performed by a very young company of actors at the Connelly Theater in Alphabet City. There are probably 20 similarly embryonic shows going on at once in New York City at any given time, and it's always pleasant to discover a good one and frequently punishing to sit through a bad one. "The Ash Girl" sits in the exact middle of the continuum, with enough good about it to make it interesting and some glaring flaws that keep it from receiving a full-blown recommendation.
Among the good is Arielle Siegel, who plays the Fairy in the Mirror and stays lively and interesting to watch throughout the production, to the extent that scenes without her make us wonder what her character is up to. Also on the side of the angels is Sam Chapin, bringing in badly needed energy as the title character's otter friend, and Camille St. James, who played, confusingly, both the demon Lust and the prince's mother, Princess Zehra, in the performance reviewed (Dawn Newman is listed as the princess in the program). St. James was strong in both parts, but the juxtaposition was, well, let's just say "jarring" and get on with our lives. Ian Lassiter, who performed in the American production of "War Horse" at Lincoln Center, is the ostensible draw. He's good, although he doesn't have much to do.
Oh, by the way, "The Ash Girl" tells the story of Cinderella, which I didn't know at the outset and was happy to discover. Revivals of plays that aren't even 10 years old tend to stick in a reviewer's craw and are some of the first programming mistakes you'll see at any new theater piloted by neophyte creative types, but as they go, this was a good choice. Wertenbaker's script is quite odd and has the capacity to charm, although director Jessika Doyel appears to have simply told everyone to perform with ultimate earnestness, and sometimes that's not enough, particularly when the energy of the cast is at an ebb and the pacing slows to a crawl.
There's also the matter of Jeffrey Toombs' lighting, which is dark enough to raise the question of whether or not the credited term actually applies. Again, it's a feature of young theater companies' young lighting designers: shadows look cool, so you start throwing them around, and before you know it the entire set looks like a still from "The Maltese Falcon."
Wertenbaker's script uses plenty of heightened language and metaphor, both visual and otherwise, to make her points, which are mostly very simple. The seven deadly sins, embodied by animals—generally in name, as there's not much animal-like behavior going on among the cast—are the villains of the piece, with an eighth, Sadness (Ari Schrier), master of them all. They're defeated, and everyone lives happily ever after.
One feels after a while that if the cast had a little more zip and the lights had a bit more juice, "The Ash Girl" would do very well in front of the audience for whom it was originally written: children. Graduates of Atlantic Theater Company's acting school formed Pipeline Theater Company in 2009. They work well together and clearly believe in one another, so it's probably wise to stick around long enough to see what's next in the pipeline.
Presented by Pipeline Theatre Company at the Connelly Theater, 220 E. Fourth St., NYC. April 21–May 5. Wed.–Sat., 8 p.m. (800) 838-3006 or www.brownpapertickets.com. Casting by Lexie Pregosin