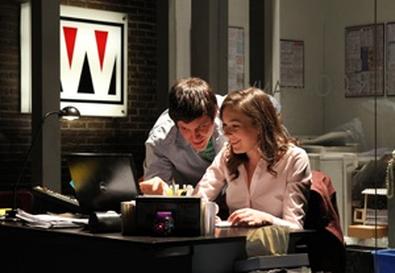 David Korins' set is almost too realistic for "Assistance," Leslye Headland's bitter workplace satire. The converted loft space, complete with structural columns and exposed brick, is the epitome of a trendy Manhattan office. It's fitting that overly ambitious 20-somethings would gnaw and scheme to inhabit this semi-chic environment. However, Headland's deeply flawed characters are so abrasive in their career clamoring that it's difficult to accept them as people. But then they're not people; they're assistants—or so the characters differentiate themselves—and the moment we accept them as human is the moment we realize that we're just like them.
Known for her hit play "Bachelorette," Headland does for entry-level employees what she did for cynical bridesmaids. The playwright captures the age-old New York mobility mantra "If you can make it here, you'll make it anywhere" and inflates it to epic destructive proportions. And it's not just the powerful executives who fall victim to this mentality. Unfolding over two years, "Assistance" follows the daily toils of assistants to a billionaire bigwig whose profession and face remain unknown throughout. Nick, a slacker looking to cruise through life, has just been handed the first assistant position in the wake of his cocky colleague Vince's fancy promotion. Newbie Nora fills Nick's empty post, and the assistant shuffle continues.
Jessica Pabst's costumes highlight Nora's sharp though predictable character arc, which seems to be indicative of the "good" assistants. The bad ones are simply fired (Sue Jean Kim gives a memorable performance as the flustered though lovable Heather, who departs too quickly). On her first day, Nora appears in a crisp, perfectly pressed, newly bought blouse and pencil skirt. As she slowly becomes disillusioned by her childhood dream of becoming Daniel Weisinger, her maniacal boss, she emerges in a casual knit dress and near the end she is without a care in jeans and sneakers.
Headland's template is not entirely original, as the play immediately evokes films such as "Swimming With Sharks" and "The Devil Wears Prada." But she makes it work onstage, despite familiar precursors. What's so intriguing and maddening about the script is that it's impossible to determine whether the characters' downward spiral results from their self-loathing or their employer's inflicted schemes.
Director Trip Cullman elicits powerful performances from the tight six-person ensemble. Michael Esper and Virginia Kull carry the cast as Nick and Nora, an undefined office couple with a stark fear of vulnerability. Headland references Dashiell Hammett's "The Thin Man" in the duo's names and their witty banter and bickering as they strive to keep their heads above water.
Each of the minor players is also a sheer delight. Lucas Near-Verbrugghe makes the frat boyish Vince utterly detestable, while Bobby Steggert steals the show in his short moments as intern-turned-assistant Justin. Amy Rosoff is poised and charming as perfectionist Jenny, who seemingly balances her professional and personal lives.
But a personal life is ultimately what all of these increasingly crazed characters need. Careers and accomplishments will fade, and they must learn that no one will fully accept them until they accept themselves. Whether they ever will is another question.
Presented by and at Playwrights Horizons, 416 W. 42nd St., NYC. Feb. 28–March 11. Tue., 7 p.m.; Wed.–Fri., 8 p.m.; Sat., 2:30 and 8 p.m.; Sun., 2:30 and 7:30 p.m. (212) 279-4200 or www.ticketcentral.com. Casting by Alaine Alldaffer.