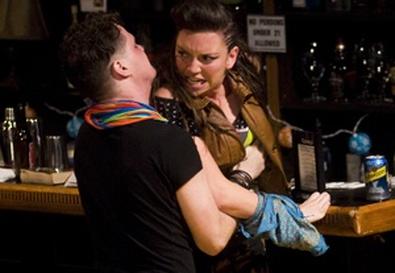 "Nobody produces plays with big casts anymore," a character in Derek Ahonen's "The Bad and the Better" says. And with a 26-person ensemble, this detective thriller about anarchists and the people who control them is a rarity in more ways than just that it employs many actors. Although slightly unwieldy, particularly in the second act, Ahonen's play is one of a few with a perceptive take on current events that doesn't come across as overtly political or agenda pushing. Because everyone has secrets, and even the people dance protesting—yes, staging a demonstration by dancing— against the corporate regime have a secret regime of their own.

Detective brothers Ricky and Chuck Lang fall at opposite sides of the career spectrum. Ricky has lived out his cop heyday and now finds himself trapped behind a desk and in an unhappy marriage, while his frisky secretary, Miss Hollis, makes passes at him. His brother, Chuck, is still in the field and posing as playwright Venus to infiltrate an anarchist group. Both men are desperate to make a break in the business. The matter at hand: developer Richard Zorn's shady dealings as he strives to manipulate more than just the New York gubernatorial race. Though Zorn might have his fingers in more places than suspected, the other officers on the scene, who hang out in a cops-only bar where Chuck's fiancée, Matilda, is the bartender, may have agendas of their own.

All 26 actors deserve individual mention, though standout performances come from Sarah Lemp as Miss Hollis, Anna Stromberg as 19-year-old anarchist Faye, William Apps as Ricky, and Nick Lawson as hipster anarchist Scotty, who has his own deep mystery. All four are veterans of the company, appearing most recently in "Hotel/Motel," and this piece truly allows them to shine. Newcomers Cassandra Paras as Matilda and David Nash as the real Venus also deliver strongly, and one can only hope that they continue to work with the company.

Primarily a downtown group until now, the Amoralists have moved uptown for this two-and-a-half-hour undertaking, and though their approach is more mature and refined, the end result is no less powerful and no less messy than their previous efforts. With the addition of director Daniel Aukin, who makes his Amoralists debut alongside 15 of the cast members, the company may be on its way to mainstream success. Aukin carefully refines the ensemble's trademark in-your-face style and stages Ahonen's well-paced scenes fluidly. The stage never feels crowded, and each actor receives a fair amount of stage time. The violence, though plentiful, is surprisingly not gratuitous. The first act unspools without a hitch, while the second act seems slightly rushed and more untidy. A few plot points are lost in the carnage, and Ahonen needs to narrow his focus, as some of the characters' relationships become muddied.

Nevertheless, there are strong parallels to the Occupy movement and behind-closed-doors political dealings in our world filled with civil disobedience and nonviolent and violent protests. Ahonen has zeroed in on an issue that has affected this country for many years. The play will keep you on the edge of your seat, even though sometimes you might be more confused than riveted.

Presented by the Amoralists, Kelcie Beene, and Form Theatricals at the Peter Jay Sharp Theater, 416 W. 42nd St., NYC. June 19–July 21. Mon., Tue., Thu., and Fri., 7:30 p.m.; Sat., 2 and 7:30 p.m.; Sun., 2 p.m. (212) 279-4200 or www.ticketcentral.com.