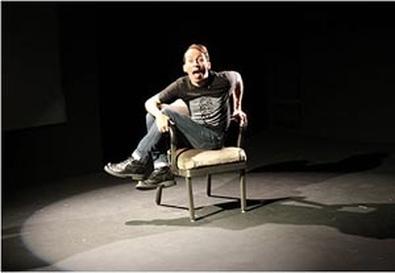 David Crabb, the co-writer and solo performer of "Bad Kid," a recollection of Crabb's goth-gay adolescence in Texas and the colorful friends and family who helped him through it—or nearly killed him—says in his program bio that he is a "two-time Moth Slam Champion." Some theatergoers might not have known what that meant until last week, when the MacArthur Foundation awarded $750,000 and its prestigious imprimatur to the Moth, a New York City nonprofit that for the last 15 years has been dedicated to the art of storytelling.
It's an art as old as mankind, but it has been repackaged as a hip new genre, and it's clear why Crabb has been proclaimed a champion as he starts to vividly re-create his seriously debauched pals. There's Zach, the giant skinhead who likes to stomp people but has a gentle side and prefers to be called a SHARP (Skin Heads Against Racial Prejudice); Greg, a tough-looking "sissy" who comes out to David using a Ouija board and decides one unsupervised evening that they won't be successful homosexuals unless they practice, which to him involves "a handful of condoms and a jar of pickles"; and Roxanne, the drug fiend whose idea of a good time is to snort poppers and drive downtown at 1 a.m. "to watch trannies fight behind the Alamo."
Crabb uses these main characters and a range of others to paint amusing pictures of his various awakenings, such as the moment he sees his first group of goths on a scorching-hot San Antonio street and realizes he wants to be one of them: "Their Manic Panic hair dye was dripping down their faces. The only girl in the group was in a velveteen gown and looked like she was about to pass out from heatstrokeÉ. There was this one more New Wavey guy walking proudly in a purple Satin jacket, bleached bangs, blue eye shadow, and a shell earring." His good-ol'-boy father remarks from the driver's seat of the family car, "Well, I'll be. They look like superheroes going to a funeral."
An accomplished storyteller, though, is not always the same as a well-trained actor or even a spot-on mimic. This is no reason to bar somebody from a legit stage: Performers who sit at a table and weave their tales mostly with their voices, such as Spalding Gray and Mike Daisey, are part of a tradition of theatrical storytelling as rich as that of solo quick-change artists such as Lily Tomlin or Anna Deavere Smith. Crabb might have been better off sticking to the first tradition, given the lack of modulation in some of his characters, especially the female ones. He and his co-writer and director, Josh Matthews, should consider rethinking the last 10 minutes or so of this 90-minute show for future productions.
However bad Crabb thought he was as a kid (and he wasn't, really), "Bad Kid" is good enough to have a future.
Presented by and at Axis Theater, 1 Sheridan Square, NYC. Feb. 20–March 10. Fri and Sat., 8 p.m. (212) 353-3101, (866) 811-4111, www.theatermania.com, or www.axiscompany.org.