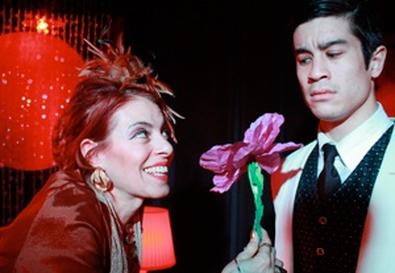 Tennessee Williams' 1969 one-act drama "In the Bar of a Tokyo Hotel" is not an easy play to like—or do. This portrait of a once-great painter at the end of his artistic rope and his sexually voracious, casually adulterous wife is, as Clive Barnes' New York Times review of the original Off-Broadway production put it, "almost too personal, and as a result too painful, to be seen in the cold light of public scrutiny." So it's a tribute to actor-directors Charles Schick and Regina Bartkoff that they have largely pulled off this metaphorical interior battle for an artist's soul. Watching their knowing production deep in Alphabet City at the tiny 292 Theatre (only two rows of 11 seats, with the first consisting of floor cushions), I thought to myself, This is what it must have been like on a good night at the Caffe Cino.
The play's title is also its sole location. At curtain, we discover Miriam parked there, drinking at a table while putting the moves on the young and handsome Asian barman, who wants no part of her. In what amounts to an extended aria punctuated by reactions from the barman, we learn of her sexual escapades, her need for travel and adventure, and her unhappiness with her husband, Mark. A disheveled Mark staggers into the bar looking for her, dazed and spent by his exertions painting in a new, avant-garde mode and terrified of what he's creating. They quarrel, and she leaves for what may be a sexual encounter as the first scene ends.
In the second scene we meet Leonard, owner of the New York gallery where Mark exhibits, who has been summoned by Miriam. She wants him to fly Mark back home while she continues their planned trip alone. Leonard urges Miriam to stay with her husband, who eventually shows up in as put-together condition as he can muster. But it's not enough, and after more expressions of his artistic insecurities and continued hostilities with Miriam, he collapses and dies.
As Williams makes explicit, Miriam and Mark are really two sides of one person—one with a remarkable resemblance to the playwright—whose sensuality and aesthetics are at war. The obvious chemistry shared in the roles by Bartkoff and Schick, a longtime couple who are also both painters, puts flesh on such symbolic bones. Bartkoff clearly knows exactly what she wants to do with Miriam and mostly does it well, though at the production's first performance she was still tripping over Williams' compellingly fractured dialogue, in which sentences regularly end with articles, prepositions, and verbs. She's adept at Miriam's ever-shifting emotions and forcefully moving in Williams' inspired final moment. Schick makes a daring choice to physically elucidate Mark's fragility and terror in a highly stylized turn that's at times hard to watch but extremely effective.
Wayne Henry is an amusing and empathetic Leonard, toying with what could be an offensive gay stereotype but finding just enough specific humanity to avoid it. Brandon Lim is absolutely terrific as the barman, with superb comic timing and wonderfully expressive eyes that keep the character fully present during long stretches when he can only observe. Lim is also impressive in his execution of choreographer Liz Piccoli's excellent herky-jerky dance depicting the repressed character's inner conflict with his desires.
Indeed, sound designer Trystan Trazon's use of music is an immeasurable asset, as are "visual director" Master Michael Quinn's evocative painted set, which he lights with resourceful care, and heightened costumes. Assistant director Romy Ashby should also get a nod, as she must have served as outside eye and editor for Bartkoff and Schick, responsible for keeping self-indulgence at bay.
If rhythms were occasionally off and some moments fumbled, repeated playing should soon take care of it. "In the Bar of a Tokyo Hotel" may be minor Williams, but it's getting major love and attention here.
Presented by and at 292 Theatre, 292 E. Third St., NYC. March 7–31. Wed.–Sat., 8:30 p.m. (212) 868-4444 or www.smarttix.com.