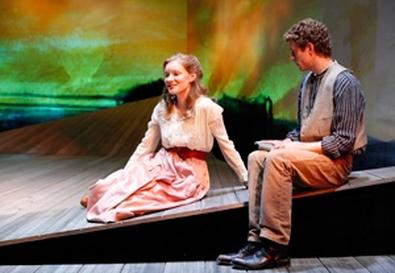 Often viewed as a dramatic relic, "Beyond the Horizon" is best known as the play that launched the career of Eugene O'Neill. It was his first commercial success on Broadway, coming after a series of one-acts mounted in Greenwich Village, and the first of his four Pulitzer Prize–winning works. The 1920 drama of two brothers leading the wrong lives is rarely performed, as its somewhat creaky plot can overwhelm the spark of tragic fire that illuminates the author's later masterpieces. The Irish Repertory Theatre, a risk-taking company that has presented many of O'Neill's works, has blown the dust off this neglected, difficult classic and given it a fresh and challenging production.

Siblings Robert and Andy Mayo have always been pals but are as different as chalk and cheese. Robert is a poetic dreamer who longs to see the world beyond the family's Massachusetts farm, while Andrew is practicality itself and adores the old homestead. But both love their childhood friend Ruth Atkins, who lives on the neighboring plot of land with her invalid widowed mother. Just as Robert is about to embark on a career as a sailor with his nautical uncle, Ruth declares her preference for him, and the two decide to get married and merge their farms. The rejected Andy elects to take Robert's place on board ship rather than stay where he will be constantly reminded of his heartache. As the years pass, all three young people realize that they have made the wrong choice. The farm falls into ruin under Robert's mismanagement, Ruth grows bitter, and Andy fails to find contentment at sea or on land.

The story can be viewed as pure melodrama, and O'Neill's ham-fisted dialogue and clunky stage devices, such as last-minute plot-advancing telegrams, show their age. Director Ciarán O'Reilly and the admirable cast don't condescend to the material but focus on the burning passions underneath the soapsuds, and the main theme of poetic illusions crushed by poor choices and unlucky circumstances is brought to achingly specific life. O'Neill would more fully develop this leitmotif with the pitiful alcoholics in "The Iceman Cometh" and the autobiographical Tyrone family in "Long Day's Journey Into Night." O'Reilly and company show us where the author began this painful journey of facing life without delusions.

Lucas Hall has the most difficult role as Robert, and he brings it off with the right balance of earthy sweat and ethereal daydreams. When expressing his romantic yearnings, the character must speak some of O'Neill's wordiest and most overwrought dialogue. Fortunately, Hall strongly conveys Robert's flowery notions and frustrated fancies without turning sappy. Rod Brogan perfectly captures Andy's shrewdness and the tenderness beneath it. Wrenn Schmidt is stunning as Ruth, transforming from a pretty, love-struck girl to a nagging drudge to a numb shell of a woman worn down by multiple misfortunes. In the final scenes, she creates a horrifying picture of poverty and disappointment, clutching a shawl around her shivering shoulders and dropping her voice to a dry whisper.

The supporting roles serve mostly as providers of exposition, but a troupe of veteran character actors gives them subtext and humor. Patricia Conolly is a delightfully malicious mother-in-law as Mrs. Atkins. David Sitler and Johanna Leister establish an entire family history in a few scenes as Robert and Andy's salt-of-the-earth parents. John Thomas Waite adds vinegar and spice in the dual parts of the crusty seafaring uncle and a no-nonsense doctor.

O'Reilly makes efficient use of the tiny Irish Rep stage, which becomes both a vista of sunny dreams and a cramped farmhouse of regret thanks to set designer Hugh Landwehr and lighting designer Brian Nason.

Presented by and at the Irish Repertory Theatre, 132 W. 22nd St., NYC. Feb. 26–April 15. Wed.–Sat., 8 p.m.; Wed., Sat., and Sun., 3 p.m. (212) 727-2737, www.irishrep.org, or www.theatermania.com. Casting by Deborah Brown.