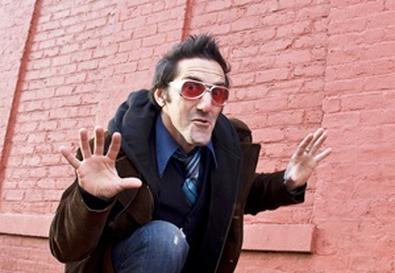 Bizarre families have provided the fodder for some of the most renowned solo performers of the stage and airwaves, perhaps most famously when David Sedaris began broadcasting tales of his offbeat relations on National Public Radio 20 years ago and set off the storytelling boomlet of today. It's hard to get stranger than the Sedarises, but Slash Coleman's family could give them a run for their money.
Coleman's Christian father is a West Virginian who makes sculptures out of roadkill and loaves of bread. His Jewish mother is a Holocaust survivor from France who sports a hairdo that Coleman dubs the "white-man perm." His lineage also includes a grandfather who danced at the Moulin Rouge and was friendly with Marcel Marceau. It's enough material for multiple one-man shows, and the raconteur has tapped the resource in several of his previous works, including his award-winning PBS special "The Neon Man and Me." But his new offering, "Big Plastic Heroes," loses its way among tired tropes and youthful fantasy.
Coleman's monologue begins in 1976, when he was 8 years old and the nation was gripped with "bicentennial fever." Although Coleman's younger self participated in the craze, accumulating collections of commemorative quarters and Coke bottles, his attentions were primarily focused on his childhood hero Evel Knievel and the apple of his eye, his elementary school teacher. As Coleman watches the media frenzy surrounding Knievel's devastating motorcycle crash, he comes up with a straightforward if misguided plan: If he can break his leg, he'll win his teacher's attention.
In the title alone, "Big Plastic Heroes" purports to say something about the importance, misplaced or otherwise, of role models in our lives. As if to emphasize the point, the production begins with a dumb show by Becca Bernard, a commedia dell'arte
–
trained clown, playing a superhero who can't quite get the moves right. It's a whimsically playful introduction but forecasts a focus that never comes about in the rest of the production. Coleman periodically drops some tired references to heroes—they show us how "anything is possible"—but rarely is that dramatized within the context of the story itself. What did Knievel do for Coleman besides set off this perplexing chain of events?
Although Coleman's account has a few high points, it never coheres enough to become more than an anecdote. With scattered mentions of heroes and unrequited crushes, it's another amusing childhood memory, and the writer-performer lacks the magnetism to heighten it. It isn't until Coleman's family enters the picture, organizing an ill-fated dinner party at a neighbor's house, that a story begins to come together, one not about heroes but about a family that is united despite its differences. When Coleman's plans go awry and his head winds up enveloped in a swath of bandages, his parents try to console him in their own way. "A turban is much more cultural than a cast," his father tells him, in the funniest but also most touching moment of the performance.
Presented by Plastic Thunder as part of Frigid New York at Under St. Marks, 94 St. Marks Place, NYC. Feb. 24–March 4. Remaining performances: Wed., Feb. 29, 10:30 p.m.; Thu., March 1, 10:30 p.m.; Sat., March 3, 5:30 p.m.; Sun., March 4, 2:30 p.m. (212) 868-4444, www.smarttix.com, or www.frigidnewyork.info.