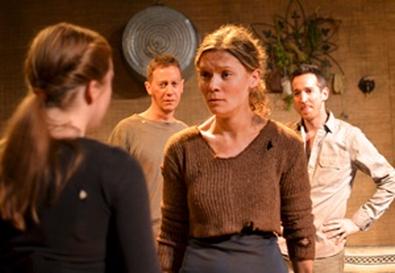 It takes bold theater artists to write and stage even one play about a full-scale alien invasion; come June, playwright Mac Rogers and director Jordana Williams will have done three of them. Considering that "Blast Radius," the second part of Rogers' "Honeycomb Trilogy," is almost as thrilling as the first, the full trilogy looks to have the makings of an overwhelming opus, one that succeeds by holding true to character and relationships even in the midst of heavy science-fiction scenarios.
In the first installment, "Advance Man," astronauts returned from a manned mission to Mars with the last survivors of an insectoid race in tow. These aliens weren't Martians; they too were astronauts, having crashed just one planet short of the moist, habitable world they had planned to colonize—ours. Radicalized by some ominous government data about the depletion of earth's environment, mission commander Bill Cooke struck a deal with the telepathic aliens and facilitated their takeover of earth in hopes of saving both races.
"Blast Radius" finds Cooke's estranged children on opposite sides of a bitter occupation 12 years later, after all technology and culture has been destroyed. Becky Byers magnificently reprises her role as Bill's vigorous daughter, Ronnie, now a slave laborer. Bill's son, Abbie, played again with effective fretfulness by David Rosenblatt, has found a purpose as ambassador to the aliens, who communicate via an extrasensory hive-mind called the honeycomb. The terrific Jason Howard also returns as Conor, a human whose body has been co-opted by one of the visitors to serve as emissary, and who is now also Abbie's lover. Disgusted by our mammalian birthing process, the giant bugs allow a work reprieve for pregnant women, and the expectant Ronnie associates with a resistance movement operating out of the rundown birthing house that was formerly her family home.
Apart from a few preposterous plot contrivances, such as an immensely convenient effect that drinking the bugs' bodily fluids has on humans and a bungled glimpse of the aliens (created by props designer Stephanie Cox-Williams), Rogers, Williams, and their superb ensemble thrive in what is essentially a wartime love story in which lethal circumstances yield earnest emotions and heartbreaking betrayals. Byers in particular excels in this fraught territory, and Ronnie's strained connections with Conor and Abbie, as well as her desperate romance with another revolutionary named Peck, played by a steely Adam Swiderski, provide a compelling emotional core for the otherworldly conflict offstage.
Presented by Gideon Productions as part of the BFG Collective Residency at the Secret Theatre, 44-02 23rd St., Queens, N.Y. March 30–April 14. Mon., Thu.–Sat., 8 p.m.; Sun., 3 p.m. (212) 352-3101, (866) 811-4111, www.theatermania.com, or www.bfgcollective.com.