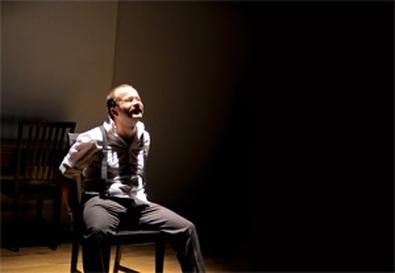 A little like those of the Bolsheviks and Mensheviks of the Russian Revolution, the specifics of the infighting among factions of Irish Republicanism over the last 100 years may seem arcane to most of us, even as we recognize their ongoing ramifications. This twin bill doesn't do much to illuminate the Irish nationalists' philosophical splits, but the appropriately loud and violent production does offer a vivid look at power struggles in the movement during two of its most visible periods, 1916 and 1984.
In "Blood," playwright Larry Kirwin re-imagines a real-life confrontation among three leaders of the 1916 Easter Rising. James Connolly (Ciaran Byrne) is a trade-union organizer, an avowed socialist with sympathy for if not actual ties to the contemporaneous Russian revolutionary movement. He founded the small Irish Citizen Army to fight the British, unaware of the larger Irish Republican Brotherhood and its plans to revolt. Two IRB leaders, Sean MacDermott (Jed Peterson) and Pádraig Pearse (Paul Nugent), capture and torture Connolly to convince him to abandon his activity and join forces with theirs. MacDermott and Pearse have their own differences in belief and approach, beautifully delineated by the two actors. Peterson, as the polio-stricken older leader on his way out, is the hard-nosed patriot of immediacy, Nugent's Pearse, a lawyer, teacher, and poet, displays a relatively calmer, more cooperative demeanor toward both their captive and their goals. The two men's class and educational differences (and that of Byrne's Connolly) are nicely underlined by distinctive accents that are presumably partly the work of dialect coach Amy Jo Jackson.
Nugent shines again, with a very different but equally credible accent, as the central character in Seamus Scanlon's "Dancing at Lunacy." This is a completely fictional account of another kind of clandestine Irish Republican power struggle, this one set 68 years later. A complete psychopath with a penchant for punk-rock music and pogo dancing, Nugent's character, McGowan, quickly blasts away any pretense of residual lofty national honor and comradeship that fueled the Easter Rising. Now, in 1984, it seems to be all about literally fighting for primacy in the IRA and assassinating British prime minister Margaret Thatcher, among others. To prove it, McGowan arrives in a secret IRA basement drinking club to do battle with his senior rival, Pender (Philip Callen), and a possible informer to the British, Ahern (Todd Pace). The resulting believable bloodbath would not be possible without the estimable work of fight director Tim Elliot and sound designer Stephanie Riddle.
Director Kira Simring has provided the proper pacing for both halves of the 110-minute program, but its noise and fury, while undoubtedly suited to contemporary tastes, doesn't impart much historical heft.
Presented by and at the Cell, 338 W. 23rd St., NYC. March 3–19: Thu.–Sat., 8 p.m. (Additional performance Mon., March 19, 8 p.m.) (800) 838-3006, www.brownpapertickets.com, or www.thecelltheatre.org. Casting by Jason Najjoum.