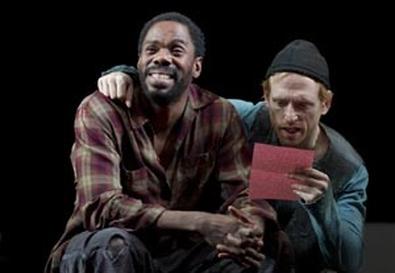 It's not so easy to wrap your arms around Athol Fugard's existentialist-flavored 1961 breakthrough play, "Blood Knot." This anti-apartheid blast, written just a decade into the bigoted policy's implementation in South Africa, uses the soul-deadening day-to-day existence lived by two poverty-stricken brothers, one who's skin is very black and one who is light enough to pass for white, as its engine. There's little plot or dramatic action, and at two and a half hours it can sometimes feel a bit slow going. Nevertheless, thanks to the superb performances of Scott Shepherd and Colman Domingo and author Fugard's knowing direction, the show keeps picking up steam and ends with a Beckettian wallop.

Dark-skinned, uneducated Zach hates his job working as a front-gate guard at a whites-only park, but at least he used to go out drinking and carousing with women. But since his estranged brother Morrie, light-skinned and well-schooled, returned to live with him about a year ago, the fun has ended. Morrie is saving all he can from Zach's meager salary to buy land for a little farm, so the brothers can escape the wretched living conditions imposed upon blacks in the cities.

Morrie regiments his day by an alarm clock, setting and resetting it to prompt him to cook dinner, prepare a bath for Zach's tortured feet upon his return from work, and give evening Bible readings. The childish Zach is all id, preferring instant gratification and unable to stop his mind from wandering, and it's all Morrie can do to keep him on the straight and narrow.

To keep Zach's mind off sex and spirits, Morrie convinces him to get a female pen pal. But when a letter comes back from pretty teenager Ethel Lange, the snapshot she encloses reveals that she is white. A terrified Morrie wants to stop right there, but the mischievous Zach is titillated by the subterfuge, oblivious to the danger it would put him in. When Ethel, whose brother is a policeman, announces her intention to drive several hundred miles to meet Zach, the brothers panic. That is, until Zach decides that Morrie must stand in for him. Ethel will think he's white. Though Morrie has returned to live with Zach because he tried passing and hated the experience, he agrees, and the choice ends up endangering the brothers' relationship and destroying Morrie's dreams.

Domingo is a riveting Zach, mercurial, imposing, and remarkably transparent, his thoughts radiating from his expressive face. Shepherd is his polar opposite as Morrie, nervous, carefully composed, always trying to stay one step ahead of the situation. The actors share a convincing brotherly rapport and excel at the "games" Zach and Morrie play, particularly a boyhood remembrance of pretending to drive a rusting hulk of a car speeding into a flock of butterflies. When Zach insists that Morrie practice at passing for white, the look on Domingo's face when Shepherd's Morrie hurls the N word at his brother, carefully delayed by Fugard's canny staging, isn't one of rage but of shattering hurt, and it's heartbreaking.

Fugard stresses the script's surreal side by having designer Christopher H. Barreca set the brothers' hovel, composed only of pieces of things—scraps of corrugated iron, a rotting mattress—on a raised island in the center of the stage, with the surrounding floor and bare walls of the backstage area fully in view. Fugard employs it for a coup de théâtre prior to the devastating final scene that leaves the siblings mercilessly exposed to a hostile universe. Susan Hilferty's precise costumes, Stephen Strawbridge's harsh lighting, and Brett Jarvis' sound design heighten the effect.

"Blood Knot" opens the Frank Gehry–designed Pershing Square Signature Center's handsome and cozy Alice Griffin Jewel Box Theatre, whose design is notable for its use of angular slabs of dark brown wood. The airy central lobby that links the center's three theaters includes a café and bookstore, and the night I attended both Fugard and Edward Albee (whose "The Lady From Dubuque" was having its first preview) could be spotted casually meandering among the crowd. It was a very New York moment in a happy addition to the city's cultural landscape.

Presented by and at Signature Theatre, 480 W. 42nd St., NYC. Feb. 16–March 11. Tue.–Fri., 7:30 p.m. Sat., 8 p.m.; Wed., Sat., and Sun., 2 p.m. (212) 244-7529 or www.signaturetheatre.org. Casting by Telsey + Company.