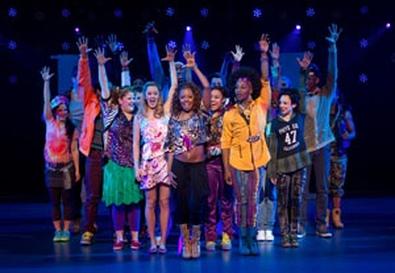 "Bring It On: The Musical" aspires to be nothing more than a frothy distraction with just a hint of that time-honored moral "Winning isn't everything." This wisp of cotton candy about a high school cheerleading competition is "inspired" by the Universal Pictures film franchise of the same title. Aimed squarely at teenage girls and designed to tour the country, the show would probably feel more at home at Madison Square Garden than on the stage of the St. James Theatre, where it is playing a two-month booking.
Book writer Jeff Whitty eschews the stories and characters of the various films in favor of his own invention. At the center is Campbell, a senior desperate to be made captain of her cheerleading squad at Truman High. She succeeds, only to discover that redistricting has landed her at Jackson High, which is as multicultural and working class as her old school is white and privileged. A game girl, Campbell sets about fitting in and eventually earns a spot on a dance crew run by the hip, self-possessed Danielle (Jackson doesn't have a cheerleading team). But when Campbell learns that she was actually manipulated out of her position by the scheming Eva, a mere sophomore, she in turn decides to stop at nothing to get the dance crew changed into a cheerleading squad and entered in the contest. Now it's Jackson versus Truman, and all bets are off.
Whitty's generic script is full of predictably sassy one-liners and types rather than characters. It regularly grinds to a halt so that director-choreographer Andy Blankenbuehler can whip out yet another cheerleading routine; these are impressively athletic at first but grow increasingly repetitive as the show progresses. Tony Award–winning composers Tom Kitt and Lin-Manuel Miranda have joined forces on the music, with Amanda Green and Miranda providing the lyrics. It's a lot of firepower for such a lightweight result, but the songs are never less than pleasant if rather interchangeable.
The bright young cast works hard for its money. Taylor Louderman holds center stage confidently as Campbell and sings well, though she can't do much to make the tiresomely obsessive girl interesting. Adrienne Warren gives Danielle smarts and attitude, along with a welcome touch of vulnerability. As Eva, Elle McLemore seems to be trying to channel Kristin Chenoweth, but she ends up a pale imitation. Gregory Haney is fun being full of himself as the transgendered La Cienega, part of Danielle's crew. Stealing the show are Ryann Redmond and Nicolas Womack as Bridget, Campbell's chunky sidekick, and Twig, the skinny rapper who likes his girls full-figured. I kept imagining the two as Hildy and Chip in "On the Town." They'd be terrific.
David Korins' uninspired but functional set looks a bit undernourished at the St. James, something that Andrea Lauer's cute costumes and Jason Lyons' colorful lighting can't disguise. Last season Disney brought "Newsies" to Broadway despite the fact that the show was only intended to tour. It's now a hot ticket in an open-ended run. I doubt "Bring It On" will be duplicating that feat.
Presented by Universal Pictures, Beacon Communications/Armyan Bernstein and Charlie Lyons, Stage Productions/Glenn Ross, and Kristin Caskey and Mike Isaacson at the St. James Theatre, 246 W. 44th St., NYC. Aug. 1–Jan. 20. Schedule varies. (212) 239-6200, (800) 432-7250, or www.telecharge.com. Casting by Telsey + Company/Rachel Hoffman.