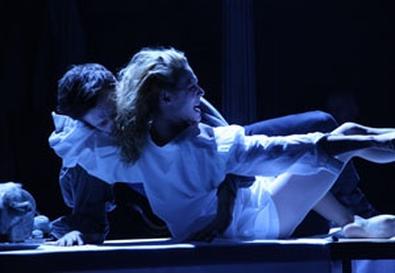 In this rarely seen 1629 revenge drama by John Ford set in ancient Sparta, a character makes a heavenly appeal: "Apollo, inspire my intellect!" This reviewer would like to invoke the same sentiment in delivering a song of praise for this peerless production from Theatre for a New Audience. Hallelujah for the ever-inventive director, Selina Cartmell, who has taken a difficult poetic play and made it accessible to all. There's hardly a false note in this stylish—some might say chic—presentation that happily also succeeds in conveying a definite emotional punch. For in Ford's remarkable play, though most of the characters endure a world of extremes, there is a prevailing restraint, a kind of elegance in a mad universe. That elusive quality is what the director and her superior cast capture, creating a production no serious theatergoer should miss.
Yes, it's written in poetry, and on paper the plot looks dizzyingly convoluted. But fear not; onstage the story speeds along with surprising clarity. At the court of Sparta are King Amyclas (Philip Goodwin) and his daughter, Calantha (Bianca Amato). Before the story begins, the young Spartan general Ithocles (Saxon Palmer) has forced his twin sister, Penthea (Annika Boras), to forsake the man she loves, Orgilus (Jacob Fishel), and marry the older, irrationally jealous Bassanes (Andrew Weems). Orgilus pretends to leave for Athens, then takes a new identity, Aplotes, and stays in Sparta to plot his revenge.
Ithocles wants to marry Calantha, whose hand is also sought by Nearchus, Prince of Argos (Justin Blanchard). Against the background of the intended marriage of Orgilus' sister, Euphrania (Margaret Loesser Robinson), to Ithocles' friend Prophilus (Ian Holcomb), the whirlpool of revenge begins to spin. By the final curtain there will have been plenty of death, a result of natural causes, murder, anorexia, and, of course, a broken heart.
Under Cartmell's wise and imaginative direction, the demanding play glides along with its central characters set off by designer Marcus Doshi's beautifully dramatic lighting while a shadowy world of mysterious lurking persons in hooded black cloaks provides background. Antje Ellermann's sophisticated black-and-silver set is made for many entrances and exits to create a world in motion. Susan Hilferty's graceful costumes continue the black, gray, and silver aesthetic, where even the blood is black. (The only exception is the doomed Penthea, who gets a skin-tone gown.)
In all these cohesive elements we see Cartmell's firm hand. This also applies to the large cast, whose strength is evident down to the minor characters and who all speak the verse with ease. Ford has created two wonderful contrasting female roles. Penthea is full of silent misery that erupts into madness, and Boras conveys both extremes with a stinging, unfaltering conviction. The role of Calantha lacks Penthea's dramatic range, but at the climax Amato demonstrates an authority worthy of a queen. Palmer's Ithocles is a blunt villain, while Fishel constructs a complex seeker of revenge. In supporting roles, John Keating, Tom Nelis, and Olwen Fouéré add significant flavor to Ford's heady mix of suffering, love, and death.
Presented by Theatre for a New Audience at the Duke on 42nd Street, 229 W. 42nd St., NYC. Feb.12–March 4. Tue.–Sat., 8 p.m.; Wed. and Sat., 2 p.m.; Sun., 3 p.m. (646) 223-3010 or www.dukeon42.org. Casting by Deborah Brown.