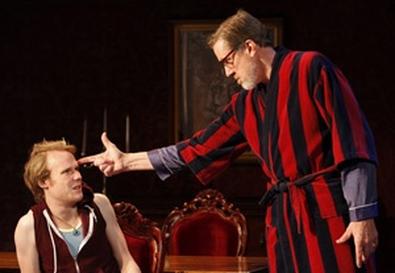 "Bullet for Adolf," a two-and-a-half-hour stoner-slacker-dude screwball comedy from first-time playwrights Woody Harrelson (yes, the actor) and Frankie Hyman, begins with a caffeinated monologue from a supporting character about a man called Gator who has nothing at all to do with what follows. It's an early sign that the two scribes are in way over their heads. Not everybody should write for the stage.
Among other miscues, Harrelson and Hyman have neglected to provide a plot to power their disjointed script. They seem to think it's enough to plunk their cartoon characters onstage and let them have at each other in self-consciously hip, effortfully profane dialogue. The opening ramble comes from Dago-Czech (Lee Osorio), a young white guy who wants to be black, like his co-worker, smooth ladies' man Frankie (Tyler Jacob Rollinson). Laid-back Zach (Brandon Coffey), who along with his friend, the prissy but straight egghead Clint (David Coomber), wants to be an actor, replaces Dago-Czech as the foreman on a construction site in 1983 Houston soon after we begin.
Running the site is bricklayer Jurgen (Nick Wyman), a contemptuous older man with a thick German accent whose father was a Nazi officer. Jurgen's daughter, Batina (Shannon Garland), is turning 18 and mad at Zach, who dated her the previous summer when he worked for Jurgen but hasn't been in touch since he went back to college. Hanging around the edges are the haughty Jackie (Shamika Cotton), who Frankie meets and lusts after when interviewing for a job in advertising, his chosen profession, and her friend, the feisty Shareeta (Marsha Stephanie Blake).
Everybody ends up at Batina's birthday party, where Jurgen shows off a revolver that was used in a failed assassination attempt on Hitler. Jurgen's discovery that someone at the party has stolen the gun brings down the Act 1 curtain. Act 2 is all about getting it back.
Harrelson's direction does his writing no favors. He seems not to understand that even farcical behavior needs to be rooted in truth. Here's just one example of many: When Zach and Dago-Czech sneak into Jurgen's house to return the firearm, Harrelson has the actors crawl through a low-hanging first-floor window in an absurdly contorted, patently unbelievable fashion, ultimately slapping their feet as loudly as possible upon landing. The actors' effort to make noise is painfully obvious, making the routine desperately unfunny.
The cast members do what they can but are finally confounded by the artificiality asked of them, especially Coomber, whose forced double takes and recurrent high-pitched braying laugh become both predictable and endlessly annoying as the evening meanders on. The least scathed are the women and the old pro, Wyman.
Considering the amount of money likely spent on Imaginary Media's video (those clips of iconic films of the era can't have come cheap), Dane Laffrey's set is surprisingly cheesy. Sound designer Brett Jarvis blares far too many period pop hits at us before the show and during scene changes, which take too long. Kristy Leigh Hall's '80s garb and Jen Schriever's lights are serviceable.
Harrelson and Hyman have based their shenanigans on experiences they had working construction together nearly 30 years ago. Unfortunately, you need a better reason for writing a play than reconnecting with your bud.
Presented by Children at Play at New World Stages, 340 W. 50th St., NYC. Aug. 8–Sept. 9. Mon., Thu., and Fri., 8 p.m.; Wed., 7 p.m.; Sat., 2 and 8 p.m.; Sun., 3 and 7 p.m. (212) 239-6200, (800) 432-7250, or www.telecharge.com. Casting by Rosalie Joseph.