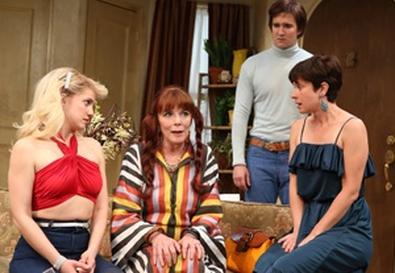 Perhaps the playwright David Adjmi was adversely affected by the popular American sitcom "Three's Company" in his childhood. Based on the British series "Man About the House," it ran from 1977 to 1984 and still has a life in reruns. For those too young to have seen it, the plot revolved around roommates Janet, Chrissy, and Jack sharing a Santa Monica apartment owned by Mr. and Mrs. Roper. The central conceit was that to convince the Ropers there was no hanky-panky going on, Jack pretended to be gay, allowing for many comic shenanigans of a generally innocent nature. In "3C," Adjmi's intention is to take "Three's Company" to the dark side, demonstrating the loss of innocence in the show's group of characters. So instead of reality TV, the playwright has taken TV and given it a severe dose of reality. This original if disturbing deconstruction provides mixed results.

The time and setting remain the same, but the dumb blonde is now Connie (Anna Chlumsky), the smart brunette is Linda (Hannah Cabell), and Jack has become Brad (Jake Silbermann), recently returned from Vietnam. Jack's oily sidekick, Larry, has morphed into the macho Terry (Eddie Cahill). The apartment owners are now an unsavory Mr. Wicker (Bill Buell) and the amusingly batty Mrs. Wicker (Kate Buddeke), who won't take her medication. Adjmi does well in the early stages, delivering some sharply satiric dialogue, producing a sort of sitcom on speed. The non sequiturs he gives Connie, particularly on love, are joltingly funny. "My father told me that he loved me," she says. "But he's a minister. They'll say anything."

The first sign of this madcap sweetness souring is when Mr. Wicker suddenly sexually interferes with the seemingly indifferent Linda. After that brief incident, Linda appears damaged for the rest of the play, and the downward spiral begins. Brad has a secret—yes, you've guessed it—that's not revealed until we are first treated to a scene with Mr. Wicker celebrating homophobia. Of course, by this time almost all humor has evaporated, with only laughter of the very nervous variety remaining.

Adjmi has a specific kind of cleverness, and it is clearly his intention to take us on a journey to a video version of hell. While the exercise is instructive, the descent becomes obvious and dispiriting. The final scene depicts the four youngest lost souls breaking into hysterical laughter, with the accent on hysteria.

Jackson Gay has directed these escapades with speed and clarity. The cast has the difficult task of walking a comic tightrope with, to quote the play, "an undercurrent of fanaticism." Silbermann convincingly conveys sweet despair, Cabell's Linda is a shattered enigma, and Chlumsky's Connie is best of all, furnished with the author's most piercing lines and demonstrating a touching existential emptiness.

Presented by piece by piece productions, Rising Phoenix Repertory and Rattlestick Productions at the Rattlestick Playwrights Theater, 224 Waverly Place, NYC. June 21–July 14. Mon.–Fri., 7 p.m.; Sat., 2 and 7 p.m. (No performance Wed., July 4). (212) 279-4200 or www.ticketcentral.com. Casting by Henry Russell Bergstein.