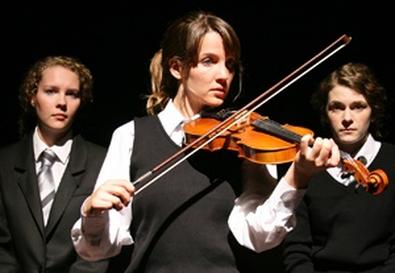 There's more emotion than story in "Canon in D Minor," but Jessica Liadsky's play registers as affecting if not totally successful poetic theater. It explores the grief, loss, and guilt afflicting Beth, a high school student, after her best friend, Katherine, commits suicide. Both violin students, they became deeply attached playing together the titular composition, and it's through that music that Beth finally resolves her pain.

In expressionistic mode, the play has three actors simultaneously portraying Beth. Suzy Jane Hunt, Eryn Murman, and Brittany Parker work together in breathtaking synchronicity, sharing the interior monologue that makes up much of the text. Occasionally, one breaks from the trio to play another character in brief scenes. In this respect, Hunt's especially fine as a sympathetic music teacher. Rachel Slaven's careful, sensitive direction seems totally in tune with Liadsky's writing, as do Amanda Clegg Lyon's lighting and David Corsello's sound. Beautifully fulfilling the music are violinists Sarah Hund and Elena Moon Park.

On the negative side, the concept sometimes seems to multiply by three the emotions felt by Beth, overloading to wearying effect the show's brief 55 minutes; sometimes it blurs what's happening. Nevertheless, "Canon in D Minor" exhibits unquestionable talent and imagination.

Self-presented as part of the New York International Fringe Festival at La MaMa ETC, 74A E. Fourth St., NYC. Aug. 10–20. Remaining performances: Sun., Aug. 12, 7 p.m.; Sun., Aug. 19, 5:45 p.m.; Mon., Aug. 20, 5 p.m. (866) 468-7619 or www.fringenyc.org. Casting consultant: Kelly Gillespie.