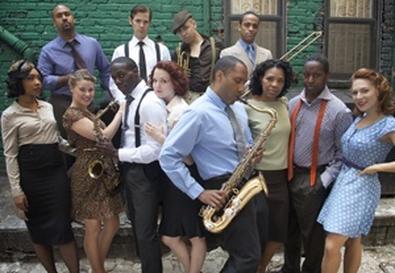 What a difference nine months can make. When I first reviewed "Central Avenue Breakdown," last October in the New York Musical Theatre Festival, I found it promising, with many strong elements, including most of Kevin Ray's music and some performances, but seriously lacking when it came to the lyrics and book and many of the actors. The happy news is that the show has come back to NYMF in a big way, vastly improved in all of its ingredients and perfectly scaled to its new venue.
Under the same director-choreographer, Christopher Windom, the show now dazzles. His dance numbers newly pop, in large part thanks to an extremely agile sextet of dancers. The new co–book writer (with composer Ray), Andrea Lepcio, has helped to clarify and streamline the once-muddy story line. The character development is stronger. The many cast changes are mostly improvements. Returning costume designer Janell Berté has upgraded her offerings, especially for the female characters, nicely aiding the evocation of time (the 1940s), place (a segregated black neighborhood of South Central Los Angeles), and milieu (the cusp of the swing era and modern jazz). New scenic designer Jisun Kim's minimalist set is just right and beautifully lit by Grant Yeager. The severe sound imbalance between singers and band has been fixed by Josh Liebert.
Despite many changes, the all-important six-piece orchestra (the actors only finger their instruments) remains top notch. Fortunately, Anthony Ware is back on tenor saxophone. He is joined by Greg Ward on alto sax, Wayne Tucker on trumpet, Steve Millhouse on bass, and Joe Nero on drums, under the musical direction of new pianist Jonathan Smith.
Sure, I have a couple of quibbles. The number of Ray's impressive songs has been reduced only by one, from 30 to 29, although they are now more evenly divided between the two acts. While his lyrics are better, the show still contains too many sung plot points that might have been better served by speeches. The promised shortening of length, down from two and a half hours to two hours and 15 minutes, did not materialize at last night's premiere.
The story remains essentially the same: A country Mississippi man and sometime musician, his wife, and two teenaged sons move to join relatives in L.A. and make a fresh start. The brothers, both accomplished saxophonists, play different styles of music, which also serve as metaphors for their different notions of self-discipline. Bill, the elder by a year, is obedient, dogged, and determined. He plays every note as written, in a swing style, and is willing to be a sideman when necessary. Brother Jim is heavily into modern jazz, which has yet to find its audience, writing, riffing, and improvising on music, preferably solo, as he does in his life. The brothers begin playing together but inevitably split up, one going to New York and becoming a star, the other staying in L.A. in a downhill spiral. Their father takes sides, with dire consequences.
The performances that really stand out are those of newcomers Joshua Boone, as Bill; Stacy Sargeant, as the boys' mother; and Juson Williams, as the owner of the Basket Club, the bar where much of the show's action takes place. Among the returning cast members, Rebecca LaChance shimmers as Jane Brooks, the white singing star who becomes involved with both brothers sequentially. Sargeant is the strongest performer, both vocally and dramatically, and her rendition of Jane's soaring lament about her problematic husband, "You Make It So Hard," will break your heart.
Presented by Moldy Fig Productions as part of the New York Musical Theatre Festival at the Pershing Square Signature Center, 480 W. 42nd St., NYC. July 19–22. Remaining performances: Fri., July 20, at 9 p.m.; Sat., July 21, 1 p.m.; Sun., July 22, 5 and 9 p.m. (212) 352-3101, (866) 811-4111, or www.nymf.org. Casting by Jamibeth Margolis.