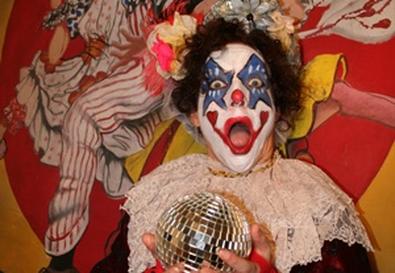 It is an exaggeration to say that H.M. Koutoukas invented Off-Off Broadway, though at first glance that claim seems much closer to the truth than the thought that "When Clowns Play Hamlet," his 48-year-old play being posthumously revived at La MaMa ETC, is an intriguing mash-up of a Shakespearean tragedy and a circus act. It seems neither intriguing nor a mash-up—nor, for that matter, a circus act, even though all three actors are dressed in clown makeup. There is no mention of the Bard or any immediately evident parallels to the Prince of Denmark.
Yet Koutoukas, who died two years ago at age 72, did write some 200 plays for the Caffé Cino and La MaMa and mentored everybody from Harvey Fierstein to the creative team behind "Hair," so if any single person can be given credit for birthing the Off-Off movement, he might be it. And there may be something more to the play's title than some of his similarly mischievous efforts, such as "Too Late for Yogurt" or "Medea in the Laundromat."
On the surface, "When Clowns Play Hamlet" tells the odd story of three members of a circus act who fancy themselves comedians but must live with the knowledge that they are failing clowns. They may not live much longer: The elephant of the circus has just died, and so they now have no protection from their star attraction, a panther-baboon. This vicious animal is enraged that the clowns get more laughs than he does and has a history of ripping off limbs and gouging out eyes, which is what he did to Gamina (Sara Galassini), the most vulnerable of the three clowns.
Though subtitled "a 1964 bitter camp" (Koutoukas called many of his plays "camps"), there is far more bitter than campy about it, especially in the second act. Much sounds as if it could be an exercise in camp: Before she was a clown, Berliner (Jenny Lee Mitchell) donned a second horse head and worked for 11 years as a professional freak. Puncho (Matt Nasser) had a mother who was also his father—a hermaphrodite. But under Ozzie Rodriguez's direction, little is played for laughs. The show instead seems surreal, sad, and too often soporific.
But there is also an unexpected poetry in even some of the most casual lines. "I'll paint stars on your fingernails and moons on your toes if you'll promise to feel better," one clown says to the other. A playwright in such control of his language is worth trying to figure out, even when presenting us with a (mercifully offstage) savage panther-baboon.
Presented by and at La MaMa ETC, 74A E. Fourth St., NYC. May 31–June 3. Thu.–Sat., 7:30 p.m., Sun., 2:30 p.m. (212) 475-7710 or www.lamama.org.