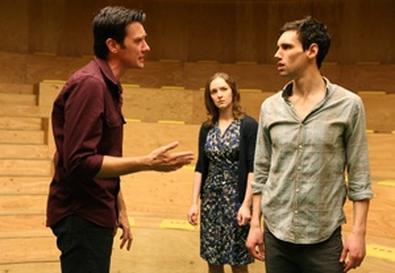 That tee-hee title should have been a dead giveaway. The provocatively named British play "Cock," first seen in an Olivier Award–winning London production, is long on titillation and short on substance. In addition to that title, playwright Mike Bartlett works any number of graphically amusing slang words into his slight story about the indecisive John (Cory Michael Smith), who's torn between his boyfriend, M (Jason Butler Harner), and the newly discovered joys of heterosexual sex with lover W (Amanda Quaid). Bartlett also tosses M's father, F (Cotter Smith, uncomfortable with his British accent), into an awkward dinner party for good measure.

Director James Macdonald and set designer Miriam Buether have staged "Cock" in the round without props or sets, seating the audience on foam cushions atop wooden bleachers as if we were all attending an actual cock fight. To further the illusion, there is a silent referee-prompter who watches in the first row, slowly keeping pace in the script with the actors. The number of pages left becomes an indispensable guide to how much longer one must sit, cramped and uncomfortable, while four fine actors try to make us care about a quartet of shallow characters.

Cory Michael Smith, all slender slouch and Hepburn cheekbones, can't charm his way past the very big void in Bartlett's script: John is a floundering philanderer whom M and W have gone inexplicably gaga over. He debates aloud why one must affix a sexual identity label to oneself, when love should be all that matters, but the argument never goes very deep. John is too confused as a person to choose any of the options open to him; it's telling that he spends much of the play's last half hour in a crouch with his head buried in his hands.

Harner is a canny, campy delight, carefully ramping up M's bitchiness and flamboyancy when the situation calls for it, and heartbreaking during those moments when John at last speaks up only to lash out. Quaid does some fine work as the woman on the side, trying to coax a possible future for herself and John against the father-son duo of M and F. But Bartlett's script and the overly clever staging telegraph early on that "Cock" will be fashionably ambiguous. We're intrigued by the title and the attendant sexual prurience, but John is as infuriatingly vague to the audience as he is to the people in his life.

Presented by Stuart Thompson, Jean Doumanian, Royal Court Theatre, William Berlind, Scott Delman, Dena Hammerstein, Jon B. Platt, Scott Rudin, Ted Snowdon, and True Love Productions at the Duke on 42nd Street, 229 W. 42nd St., NYC. Opened May 17 for an open run. Tue.–Sat., 8 p.m.; Sat., 2 p.m.; Sun., 3 and 7 p.m. (646) 223-3010 or www.newvictory.org. Casting by Cindy Tolan.