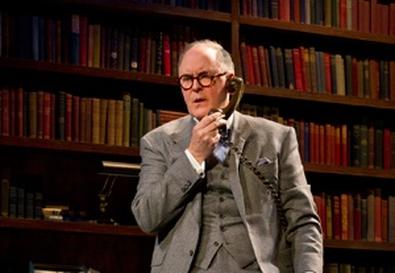 Playwright David Auburn has pulled off a nifty trick in "The Columnist," his new play about mid-20th-century political scribe Joseph Alsop. Faced with a fascinating protagonist but lacking a strong plot, Auburn has devised an ingenious structure of subtly accreting scenes that generates considerable forward motion, coalescing in both a complex character study and a surprisingly full portrait of an era of rapid change in American society. Under Daniel Sullivan's unerring direction, John Lithgow delivers a riveting turn in the title role of this crackling entertainment.
Alsop was a man of striking contradictions. A liberal who supported the New Deal, attacked Joseph McCarthy during the blacklisting era, and fought for civil rights, he was nevertheless a righteous conservative in the Cold War and an imperious card-carrying member of the WASP elite who believed in the hegemonic rule of that class and disdained the hoi polloi. He was also a closeted homosexual in a marriage of convenience who, when threatened in the 1950s with exposure by the KGB, immediately sent the incriminating photos to the FBI himself. Auburn begins the play with the unfortunate Moscow-hotel-room assignation that produced those photos, cannily introducing us to Alsop at his most human and vulnerable and generating sympathy that will see us through a good deal of unpleasant behavior to come. That would include the unraveling of his marriage to widowed Washington, D.C., socialite Susan Mary Jay Patten; a troubled, somewhat abusive relationship with younger brother Stewart, also a columnist and his former collaborator; and Alsop's strident support of the Vietnam War that ultimately turned him from feared powerbroker to journalistic joke.
Lithgow plays some of the same notes he struck in his Tony-winning portrayal of fictional gossip columnist J.J. Hunsecker in the musical "Sweet Smell of Success," but many more are new. The mercurial actor can go from flashing rage through wounded pride to glittering charm without breaking a sweat, and he revels in conveying the highly articulate Alsop's love affair with language. Lithgow never shies from Alsop's uglier aspects, including his penchant for contemptuously dismissing loved ones and an insufferable certainty in the rightness of everything he professes. Aided by Auburn's acute writing, the star leaves us with the sense of a man in whom there is an emotional hole, perhaps the inevitable price of living in a society that ruthlessly refuses to let him love in the way in which he was meant to love.
Sullivan surrounds Lithgow with a terrific supporting cast. The ever-reliable Boyd Gaines is an affecting Stewart, whose abiding love for his older brother can't entirely assuage the wounds his sibling regularly inflicts. Margaret Colin is all elegance and warmth as Susan Mary, especially good at her dawning awareness that she's in over her head and touching in her embarrassed acknowledgment that she expected her husband's sexuality to change. As Abigail, Susan Mary's daughter by her first husband, Grace Gummer confidently goes from a protected but precocious 14-year-old to a blossoming young woman of 20 while effortlessly encapsulating the seismic social shifts of the 1960s. Stephen Kunken grabs the role of David Halberstam, the crusading anti–Vietnam War journalist for The New York Times, and runs with it, lighting up the stage with Halberstam's passion and commitment and quietly disturbing in his reflexive misogyny and homophobia. Brian J. Smith is a winning Andrei, Alsop's Russian trick, an intriguing mixture of a distancing opacity and a hunger for connection.
John Lee Beatty's handsome set provides numerous locations with ease and speed, recombining in unpredictable ways while accommodating Rocco DiSanti's enhancing projections of typewriting that at one memorable point dissolve into softly falling snow. Jess Goldstein's spot-on period costumes, Kenneth Posner's invisible lighting, and John Gromada's original music and sound design complete a notably polished physical production.
Auburn is to be congratulated for presenting this important writer in all his thorny complexity. As a teenager I used to read Alsop, even though I rarely agreed with him. Now I know why.
Presented by Manhattan Theatre Club at the Samuel J. Friedman Theatre, 261 W. 47th St., NYC. April 25–July 8. Tue. and Wed., 7 p.m.; Thu.–Sat., 8 p.m.; Wed., Sat., and Sun., 2 p.m. (212) 239-6200, (800) 432-7250, or www.telecharge.com. Casting by David Caparelliotis.