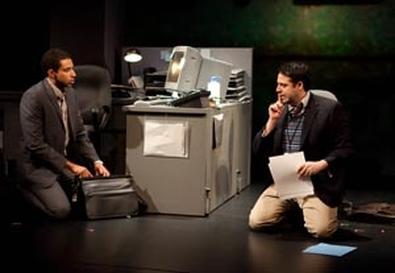 Gabe McKinley's "CQ/CX" is a thinly veiled fictionalization of the 2003 Jayson Blair affair at The New York Times, in which a young African-American reporter was found to have plagiarized and fabricated numerous news stories. Revelation of the scandal led to charges of affirmative-action hiring and editors looking the other way at warning signs. It was resolved with Blair's firing and a long front-page article that laid bare his misdeeds, accepted responsibility, and amounted to a public mea culpa. All this is there in McKinley's script, but it rarely dips beneath the surface, playing more like an extended TV-drama episode than a thoughtful theater work.
McKinley begins at an orientation meeting for an exclusive group of 10 hopeful young interns, among whom is the driven, middle-class Jay Bennett of Washington, D.C. Jay bonds with fellow interns Monica Soria, a Texan of Mexican descent, and Jewish New York City native Jacob Sherman, all three vying for a coveted reporting slot at the Times. Jay initially works for hardened editor Ben on the metro desk reporting local news stories. He's noticed by Gerald Haynes, a 50ish editor and the first black man ever to grace the Times' masthead, who has clashed with Ben over a series on race that Ben dismisses as "a vanity project." When Gerald's longtime mentor Hal Martin, an Alabama country boy with a heavy load of liberal guilt, is named the paper's new executive editor by preppy publisher Junior (as in Arthur Sulzberger Jr., the Times' current head), he chooses Gerald as managing editor. Gerald, in turn, intercedes when he learns that Ben has blocked Jay's employment, and the stage is set for the calamities ahead.
Director David Leveaux's busy production unabashedly employs the clichés of newspaper dramas in its rapid-fire staging: headline-filled projections on the theater's back wall (by Peter Nigrini and C. Andrew Bauer and not always easy to make out), caffeinated color-coded lighting (by Ben Stanton), carefully battered set pieces zooming on and off (by David Rockwell), exclamation-point costumes (by Jess Goldstein), and clattering scene-change music and sound design (by David Van Tieghem). All it does, however, is accentuate the shallowness of McKinley's two-dimensional script, exemplified by its wince-inducing "Great Gatsby" references, caricatured journalistic palaver, and studied dialogue buttons on scenes.
Leveaux has his talented actors pitch their work to match. Kobi Libii concentrates on Jay's energy and drive, but he misses the requisite gleaming charm and can't find an inner life for the character, who remains a cipher. Arliss Howard pours on the Southern comfort as Hal, emphasizing his pomposity, self-righteous certainty, and messy sentimentality to the point that it's hard to believe he got to where he is. David Pittu zeroes in on Junior's boyish, to-the-title-born softness but can't find the steel necessary to publish The New York Times. Peter Jay Fernandez smartly goes for Gerald's watchful reserve and deep determination but is stymied by his clumsy climactic recriminatory battle with Hal.
The supporting players fare better, especially Steve Rosen as the affable if a bit neurotic Jacob. Rosen is memorable in Jacob's post-scandal accidental meeting with Jay, making surprising choices as he shows us the moment when a boy becomes a man. Tim Hopper's blankly terse Ben turns a stereotype into an archetype. Sheila Tapia is a gracefully natural Monica, sympathetic in her devastation at not being hired and compelling in her cold fury when Jay plagiarizes her work. As Frank King, a veteran editor on the verge of retirement who's been put out to pasture as a copyeditor, Larry Bryggman freshens the formulaic part with idiosyncratic specificity.
The play's title comes from the Latin phrase "Cadit quaestio," meaning "the question falls" and signifying that the facts have been checked. "CQ/CX," alas, leaves too many unanswered questions to qualify as successful drama.
Presented by Atlantic Theater Company at the Peter Norton Space, 555 W. 42nd St., NYC. Feb. 15–March 11. Tue.–Sat., 8 p.m.; Wed. and Sat., 2 p.m.; Sun., 3 p.m. (No performance Wed., March 7, 2 p.m.; additional performance Sun., March 11, 7 p.m.) (212) 279-4200 or www.ticketcentral.com. Casting by Telsey + Company.