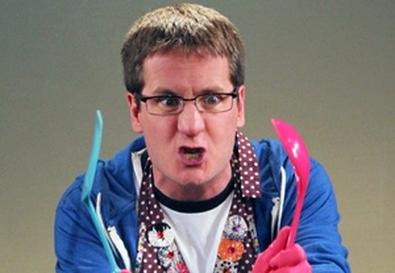 The title for Jeff Seabaugh's one-man play "We Crazy, Right?" comes from a remark by his adopted younger daughter about their family. Seabaugh, however, is not crazy; he's an inspiring warts-and-all guy trying his damnedest, alongside his husband, Randy Lichtenwalner, to give and receive love.

The author-actor relates the two men's search for a family with warmth and honesty. Their first attempt at adoption, with a severely troubled 12-year-old boy named Raphael, ends badly for all concerned and leads Seabaugh to question what he's doing. Then three Dominican siblings become suddenly available: Marc (age 10), Karan (age 7), and Milagros (age 4). They too have plenty of issues, but this time it takes, though not without a lot of drama along the way.

Seabaugh is a personable presence as a performer and unafraid as a writer to make himself look less than flattering. He successfully inhabits the many characters involved and is particularly touching when playing his children. My only quibble is that Lichtenwalner is only talked about. Seabaugh never takes on the role. It leaves a small hole in what is otherwise an entertaining, insightful, generous, altogether admirable tale.

Self-presented as part of the New York International Fringe Festival at Jimmy's No. 43, 43 E. Seventh St., NYC. Aug. 10–25. Remaining performances: Sun., Aug. 12, 4:45 p.m.; Sat., Aug. 18, noon; Sun., Aug. 19, 7:15 p.m.; Fri. Aug. 24, 2:30 p.m.; Sat., Aug. 25, 8:45 p.m. (866) 468-7619 or www.fringenyc.org.