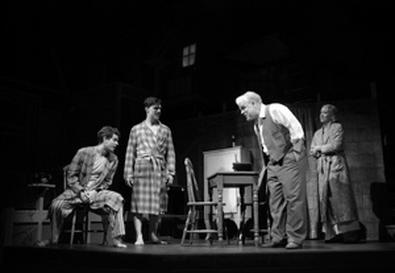 Elia Kazan is reputed to have said that 90 percent of directing is casting, and the other 10 percent is fixing the mistakes made in casting. I don't know if Mike Nichols subscribes to that theory, but inappropriate casting has blown a hole in his loving revival of Arthur Miller's classic drama "Death of a Salesman" (originally helmed, of course, by Kazan, in 1949). It's not that rising film star Andrew Garfield lacks theater chops; it's clear from his earnest performance that he can hold a stage. What the exceedingly youthful 28-year-old can't do, alas, is bring the requisite dried-up boyishness to 34-year-old Biff Loman, the rebellious elder son of the title character. Garfield is much more convincing as a 17-year-old in the play's many flashbacks. In the present he barely seems to have aged, and Biff's disillusionment comes off as whiny self-pity. As the character is the work's antagonist, this affects all the main players. Without a compelling Biff, you haven't got a show, and though Miller's masterwork still has power, at the Ethel Barrymore Theatre that power is diluted.
The reason for this production, however, is not Garfield but Philip Seymour Hoffman, who Nichols decided would be an ideal Willy Loman, the blinkered Everyman led astray by the chimerical American dream to be chewed up and spat out by unbridled capitalism. Hoffman, at 44, is also younger than his character, by nearly two decades, but he doesn't allow that to be an obstacle, offering a carefully thought-out performance that stresses Willy's boisterous, childlike optimism. The ghosts haunting Hoffman are many—Fredric March, George C. Scott, Dustin Hoffman, Brian Dennehy, and of course the role's great originator, Lee J. Cobb, whose work is preserved on a DVD of the edited 1966 TV version—but his is a persuasively original Willy, whose climactic suicide Hoffman grounds less in desperation than in that implacable, deluded sanguinity.
It doesn't help matters that we have a potential Biff onstage staring us in the face: the excellent Finn Wittrock, who here is playing the younger brother, Happy, and doing it with the same breezy skill he displayed in last season's "The Illusion." Wittrock is notable connecting the dots between the teenage Happy's puppyish eagerness to please and the adult son's shallow, feckless womanizing. Completing the family unit is Linda Emond's mother and wife, also named Linda. Emond makes her more of an equal with Willy than is usual, which undercuts his sometimes rudely dismissive attitude toward her but pays dividends in a stronger marital bond. She is fiercely effective in the "attention must be paid" scene with Biff and Happy, but her subdued account of Linda's speech at the grave, which ends the play, while an interesting choice, doesn't land with sufficient force.
The supporting performances are uniformly strong, including Bill Camp's bemused, avuncular next-door-neighbor Charley; Fran Kranz's worshipful and nerdy, then quietly authoritative Bernard, Charley's son; Molly Price's raucous secretary, who beds Willy in Boston; and especially John Glover's fiery-eyed Ben, Willy's long-vanished self-made older brother. Wearing Ann Roth's inspired African explorer garb rather than the usual expensive overcoat, business suit, and Homburg hat, Glover's Ben is quite clearly the product of Willy's imagination, and Glover gives him a heightened energy that transcends naturalism.
It's a joy to encounter Jo Mielziner's breathtaking skeletal-house set from the original production, a work of art in its own right and perfectly facilitating the play's instantaneous shifts in time and place. Brian MacDevitt's golden-hued lighting and Alex North's mournful, elegiac music, composed for the original production, aid immeasurably in both setting tone and delineating realities.
There's plenty to recommend this "Salesman," not least of which is Miller's titanic play. But without a dramatically equal Biff to lock horns with, Hoffman (and Nichols) can't quite generate the sense of tragedy a great Willy can evoke in an audience, resulting in a "Salesman" that's intellectually moving but not emotionally shattering.
Presented by Scott Rudin, Stuart Thompson, Jon B. Platt, Columbia Pictures, Jean Doumanian, Merritt Forrest Baer, Roger Berlind, Scott M. Delman, Sonia Friedman Productions, Ruth Hendel, Carl Moellenberg, Scott and Brian Zeilinger, and Eli Bush at the Ethel Barrymore Theatre, 243 W. 47th St., NYC. March 15–June 2. Tue. and Thu., 7 p.m.; Wed., Fri., and Sat., 8 p.m.; Wed. and Sat., 2 p.m. (Additional performances Sun., April 22 and May 6 and 27, 3 p.m.) (212) 239-6200, (800) 432-7250, or www.telecharge.com. Casting by MelCap Casting.