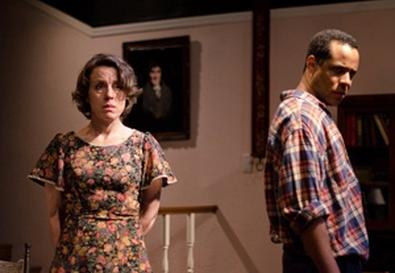 When Arnaud d'Usseau and James Gow's hit drama about racial prejudice, "Deep Are the Roots," opened on Broadway in 1945, the critic for Time magazine called it "a bad play that is yet worth seeing." The flaws he was complaining about—too-obvious plotting, melodramatic writing—are still apparent, but paradoxically the passage of time has made them less important. We recognize the artificial hallmarks of the well-made play in lots of scripts from the mid–20th century that we nevertheless continue to enjoy. Instead, what compels about the work is its unflinching depiction of the perversities and pervasiveness of bigotry at the time. Metropolitan Playhouse's production is a corker, with two exceptional performances at its center.
The play tells the story of Brett Charles, a decorated African-American lieutenant in the U.S. Army, who returns to his small hometown in the Deep South at the end of World War II. Brett has been treated like an equal in Europe, with men under his command, and slipping back into the shuffling role of "boy" is not something he's about to do. The liberal-minded Alice Langdon, daughter of a conservative U.S. senator, has been Brett's champion throughout his life, and she has plans for him to go to college in the North. Brett prefers to stay, however, and work to better his community. Alice's younger sister, Genevra (Nevvy for short), who grew up with Brett, is happy that he's remaining, though she doesn't initially understand that it's because she loves him. Brett returns the feeling, but the bond is unarticulated until events force Nevvy and Brett to share their emotions. When Alice realizes the situation, her patronizing façade crumbles, and she joins in her father's already hatched plot to destroy Brett, whose efforts to combat segregation anger the senator. Also important are Alice's beau Howard, a Northern writer, and Brett's mother, Bella, the Langdons' housekeeper.
Thanks to Michael Hardart's taut and intelligent direction, the melodrama bubbles vigorously but never boils over. Teresa Kelsey is extraordinary as Alice, whose journey is the play's core. Kelsey's Alice is lithe and lovely at first, wearing her self-confidence and privilege lightly, all affectionate teasing and easy grace. But as Alice comes to realize that Brett has his own ideas, Kelsey subtly registers increasing disappointment, culminating in a devastating portrayal of the gut-wrenching repulsion Alice feels when she contemplates her younger sister in bed with a black man. Kelsey makes Alice's recognition of how much she shares her society's beliefs just as powerful, then is moving and persuasive in her first halting steps toward change. It's a memorable performance.
Matching her excellence is R.J. Foster as Brett. The role, of course, is a stereotype, the kind of impossibly good Negro that Sidney Poitier was forced to play over and over onscreen, but that doesn't shackle Foster. He gives Brett an intriguing mystery and a quietly imposing size, fleshing out the character with detail and specificity. Foster compensates for the play's timid handling of the love affair with deep reservoirs of suppressed emotion and is ferocious in Brett's climactic expression of blind rage. In his and Kelsey's skilled hands, the final tentative note of hope is fully earned and throat-catchingly good.
Among the supporting cast, J.M. McDonough's dry senator subdues the role's mustache-twirling aspects, while Michael James Anderson smartly plays Howard, the authors' voice of conscience, as a character man. Gloria Sauvé fills every moment she has as Bella, reaching her peak in a cutting speech to Alice about the sexual double standard for men and women. Caitlin McEwan grows convincingly from girl to woman as Nevvy, though she's hampered by a staccato delivery that seems too modern.
"Deep Are the Roots" is a fascinating snapshot of the state of race relations in immediately postwar America, but it also resonates today. Some of the words being hurled about interracial love—"unnatural," "abnormal"—can be heard on the evening news coming out of the mouths of Republican candidates about gays.
Presented by and at Metropolitan Playhouse, 220 E. Fourth St., NYC. March 9–April 1. Wed.–Sat., 8 p.m.; Sun., 3 p.m. (Additional performance Sat., March 31, 3 p.m.) (212) 995-5302 or www.metropolitanplayhouse.org.