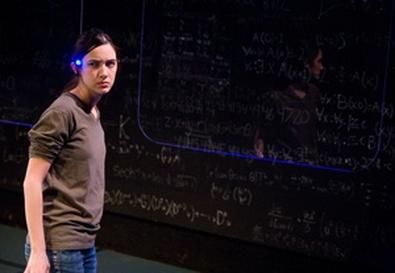 There is a steep disconnect between Flux Theatre Ensemble's sophisticated production of "DEINDE" and the perhaps too deeply considered play itself, written by August Schulenburg. Telling of a terrible plague 50-odd years in the future, the show relies upon heady science-fiction concepts that sometimes entertain and intrigue but also meander into dull abstraction.
Despite the staggering brainpower of Quambi Laboratories' "dream team" of upbeat quantum biologists, lead by Nabanita Ghosh (a measured Nitya Vidyasagar), they still can't deduce a cure for the aforesaid virus, no matter how much they pour over data on sleek transparent tablets in their futuristic think tank, which has been designed to sheer simplistic perfection by Will Lowry, as has every aspect of director Heather Cohn's glossy staging. Enter Daniel Nemerov; a Russian scientist (played broadly by Matthew Trumbull), who has invented a machine called DEINDE, an admittedly clumsy acronym for "dineural entangled intelligence network device," which enhances baboon brainpower when the creatures are "looped into" it. The device is ready for human trials, and while some of Ghosh's staff are hesitant, she believes that it may be the boost needed to zero in on a cure.
"Deinde" means "next" in Latin, and the ominous device in Schulenburg's play harkens overtly to the "singularity" that tech pundit Ray Kurzweil often speaks of: the moment when man merges with his machines. Schulenburg's interest in the tragic societal ramifications of this fusion pulses through every moment of his bleak narrative, but his concern ultimately proves to be more of a hang-up. Rachel Hip-Flores and a shrill Isaiah Tanenbaum play two members of the Quambi team who have been made super intelligent through DEINDE and whom Schulenburg uses as frequent mouthpieces to spin purple prose about the beauty of bosons and other advanced sciences that they say the rest of us dumb humans aren't evolved enough to understand.
Apparently, these godlike characters aren't evolved enough to actually talk about this stuff either, offering instead only slang and pop culture–ridden putdowns aimed at those not in the loop, thus short-circuiting any genuinely absorbing drama in Schulenburg's script.
Presented by Flux Theatre Ensemble as part of the BFG Collective Residency at the Secret Theatre, 44-02 23rd St., Queens, N.Y. April 27–May 12. Tue.–Sat., 8 p.m.; Sun., 3 p.m. (212) 352-3101, (866) 811-4111, www.theatermania.com, or
www.fluxtheatre.org
.