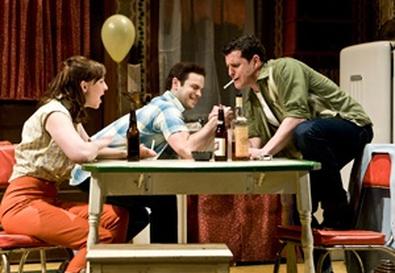 David Rabe's new play, the semi-autobiographical "An Early History of Fire," is getting a loving production from the New Group, directed by Jo Bonney with a keen ear for its internal rhythms. This is a gentler, more sentimental Rabe than usual, which may account for the play's unfortunate tendency to meander, seemingly never quite sure of where it wants to go and what it wants to say. (An entire character was excised during previews.) Still, there is some fine writing, a well-observed protagonist, and an affecting if expected ending.

It's 1962, and blue-collar Danny, having dropped out of a local college, is trapped in a job he hates in his small Midwestern hometown, living with his widowed father, Pop, a cultured German refugee who fled the Nazis rather than join them. Danny exists in a sort of frozen late adolescence, content to pal around with boyhood friends Jake and Terry, chasing girls, getting drunk, and picking fights with "dorks." Lately, though, Danny has grown restless, and the cause may be Karen, the rich college girl home from the East on break whom he met at a bus stop. Karen's intense analyses of J.D. Salinger novels, access to marijuana, and sexual frankness heighten Danny's gnawing sense of emptiness and stoke a nascent instinct to write. Though plenty screwed-up herself, Karen has rent the heavy veil of Midwestern emotional suppression and hypocrisy, and for Danny there can be no going back.

According to press materials, Rabe intends "Fire" to be a portrait of a complacent America in that uneasy moment shortly before the '60s exploded. To achieve that, though, he'll need to dig deeper into his supporting characters, which right now verge on stereotypes, and their dramatic purposes. Only Danny, and to a lesser extent Karen and Pop, are, forgive me, popping as idiosyncratic creations, and it's not the fault of the terrific cast. Dennis Staroselsky, as the angry, class-obsessed Jake; Jonny Orsini, as the chipper and callow Terry; and Erin Darke, as the shrugging, take-what-comes Shirley, Terry's former girlfriend turned town prostitute, bring specificity and honesty to their roles. So does Devin Ratray as Benji, Pop's genial but dimwitted middle-aged sidekick.

Gordon Clapp is an arresting Pop, highlighting the character's autocratic style and Old-World sensibilities while always careful to show us just how much Pop loves his son. Claire van der Boom, stepping into a role meant for Rabe's daughter, Lily (she took Shakespeare in the Park instead), is a memorable tornado of neuroses, damaging all in her path as she flails for meaning and freedom. All, perhaps, except Danny, who, as Theo Stockman ably demonstrates in a rich and confident performance, recognizes his emotional and psychological kinship with Karen despite their considerable surface differences. Stockman is particularly good at suggesting the violence Danny keeps locked inside, both frightened and mystified by it. It's the same violence with which an era will soon erupt.

Both Neil Patel (set) and Theresa Squire (costumes) re-create the early '60s with a knowing eye (my southern Ohio–refugee husband openly coveted a floor lamp at intermission). Lap Chi Chu's lighting is a subtle mixture of indoor and natural and accomplishes the perhaps overly obvious symbolic brushfire with welcome restraint. Ken Travis' sound design proves yet again Noël Coward's adage about the potency of "cheap music" in its use of period tunes, especially Elvis Presley crooning "Can't Help Falling in Love."

I was only 8 years old and stuck in the stifling suburbia of Cleveland in 1962, but I remember it well. There's not a character onstage that doesn't resemble someone I knew back then. Furthermore, I also fled to the East to become a writer. So it's possible that what seems too familiar to me may not to general audiences. In any event, there is admirable work in "An Early History of Fire." I hope Rabe continues to refine it.

Presented by the New Group at the Acorn Theatre, 410 W. 42nd St., NYC. April 30–May 26. Mon.–Wed., 7 p.m.; Thu. and Fri., 8 p.m.; Sat., 2 and 8 p.m. (No performance Mon., May 7; additional performance Wed., May 9, 2 p.m.) (212) 239-6200, (800) 432-7250, or www.telecharge.com. Casting by Judy Henderson.