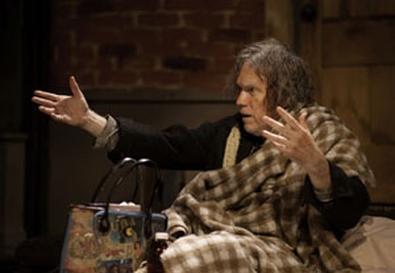 Presented by East Village cultural fixture the Metropolitan Playhouse, this is the eighth edition of these short plays. While the Playhouse has built its considerable reputation on excavating America's forgotten plays and playwrights, with the "Chronicles" it salutes contemporary authors, often fledgling writing talent testing their theatrical wings. But the eight plays here, presented in two programs, all too clearly demonstrate the problematic struggle in juggling economy, substance, and style in this shorter form.
Evening A comprises five plays directed by Laura Livingston, who also wrote and performs in "Dear Friends and gentle Hearts." The prize for originality here goes to Andy Bragen's appropriately named "Game, Set, Match." Set on the tennis courts in East River Park "some time soon" a Man (Jonathan Hicks) concentrates on winning a tennis match while around him Manhattan begins to melt, the Lincoln Tunnel caves in, and fiery horses take to the sky. Bragen cleverly conjures up a picture of a surrealist Manhattan that Hicks delivers with winning energy and aplomb. "Dear Friends and Gentle Hearts" is an homage to Stephen Foster, evoking his ghost (Mark August), which properly resides in the East Village where he died. Angela (Livingston) is set to make a PBS documentary on Foster with musician friend Jim (Michael Durkin) but her plans soon echo Foster's sad fate. While the play is blatantly sentimental and strains for obvious parallels, it does include some wonderful music from Durkin and August; Foster's "Beautiful Dreamer," performed on August's plaintive banjo, proves that art has the longest life.
"Posers," by Anthony P. Pennino, is heavy-handed satire on the coming of punk to the East Village set in the CBGB bar in 1987. While punk wannabes Billy Razor (Mark August), Lolly Blade (Jennifer Teska), and Clutch Bloody Hell (Kevin Melendez) are exposed, it is the New Jersey waitress Sheena (Abby Royle) and nerd Wesley (Hicks) who triumph. Much more down to earth, literally, is Lavinia Roberts' "The Moment." This brief solo piece has down-and-out musician John (a convincing Bones Rodriguez) on a bench in Tomkins Park, bereft of everything except his talent. His drumming on the earth becomes the music of his despair.
J.P. Porter's "How Cool Is That" is a blip of a play about a 1983 meeting of young writer Paul (Melendez) with the Beat editor and muse Lucien Carr (Durkin).The two lives merely brush each other, but there's enough about the intriguing Mr. Carr to drive you hurriedly to Wikipedia. Director Livingston neatly ends Evening A with all the performers on stage singing and playing Stephen Foster's "Hard Times"—an anthem with contemporary resonance.
Evening B includes three plays, all directed by Ben Gougeon. The most interesting of the three is Michael Bettencourt's "The Fever Dream of Captain America," in which Galal Omar (Keola Simpson), an FBI agent of Egyptian background, is attempting to turn cab driver Uddim (Ev Roufeh) into a well-paid informant. Omar considers that the mosque on the Lower East Side frequented by drivers is a threat to America's safety. The time is the present, the setting an interrogation room, and Uddim's mantra is "I am loyal to nothing except the American Dream." While the symbolism of Captain America feels forced, this is a battle scene that lingers in the mind; the assertive performances by Simpson and Roufeh leave you pondering which is the scarier of the two characters.
"Willow Grove" by Isidore Elias is a much milder skirmish of wills as Orchard Street rivals (played by Jerry Goralnick and John Blaylock) deal with commercial survival in 1976. It's a slice of East Village life written in a potent patois, but the scene is protracted, with dialogue that often seems to be chasing its own tail. "Russian Tea" by Matthew Kelly has an engaging premise: Three Russian émigrés (Sara Antkowiak, Paul Bomba, and James Luse) trying to survive in a Lower East Side tea room in the early 1900s have a secret trade, which has drawn the attention of the Captain of the New York Society for the Suppression of Vice (Chris Ryan) and his undercover assistant (Montgomery Sutton). The Captain's conversion by the émigrés is unconvincingly rapid and needs embellishment, as Naum leaves us with this advice: "All the world is going to Hell—on the Lower East Side, we are just ahead of the game."
Presented by and at the Metropolitan Playhouse as part of the East Village Theater Festival, 220 E. Fourth St., NYC. June 11–July 1. Mon., Tue., Thu., and Sun., 7:30 p.m.; Sat. and Sun., 3 p.m. (212) 995-5302 or www.metropolitanplayhouse.org.