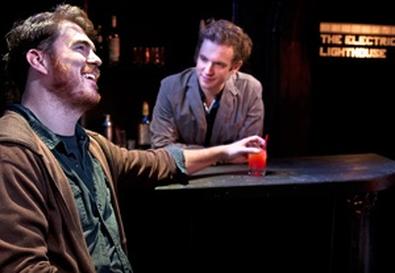 Ed Hime has been a writer on "Skins," the controversial British TV series detailing the eye-opening adventures of teenagers in the city of Bristol. In his play "The Electric Lighthouse," he paints a bleak but energized portrait of a group of 20-something Londoners living on the fringes of the media world, their days cluttered with film references, video, websites, and, of course, sex. As directed with propulsive force by Kristan Seemel and performed by members of the Bats, the Flea Theater's young resident acting company, it provides a high-powered start for the Flea's New Play Festival, featuring three full productions in rotating rep.
The paths of Hime's six characters intersect in unexpected ways, but the central thread involves the tortured love affair of Rick (Seth Moore), who manages the indie movie house of the title, and Marie (Margaret Odette), a writer who was a frequent patron until the fateful matinee when she was brutally raped. The assault tore apart both the romance and Marie's psyche. It also ended what's described as "a golden age" for the movie house, filled with carousing and film-watching; it's been reduced to showing an Orlando Bloom western. (Bloom seems to bear the brunt of the characters' disdain for mainstream films.)
Also inhabiting the play's landscape are Keith (Jack Corcoran), an alcoholic film buff and ex-employee of the movie house; Kerri (Allison Buck), an inept bartender working the cinema's bar and concession stand who's also a former TV child actor and pregnant; Chaz (Stephen Stout), a compulsive videographer with a penchant for weird subjects; and Cynthia (Glenna Grant), a sexually voracious low-level TV producer. They are not a particularly pleasant bunch. The language is often raw, and the tempers short, but the cast bringthese people to life with unfettered gusto (not to mention mostly convincing London accents) and such depth of feeling that you can't help caring about them. When Marie is finally able to resolve her trauma by transforming it into something like a movie scenario, it gives emotional weight to Hime's contemplation of the interplay of cinema and reality.
Kate Foster's set and Jonathan Cottle's lighting, ably suggesting the script's locales, along with Lara de Bruijn's funky costumes and Colin Whitely's pop-rock sound design, all add to the authenticity of this glowering comedy-drama.
Presented by and at the Flea Theater as part of the New Play Festival, 41 White St., NYC. May 1–15. Schedule varies. (212) 352-3101, (866) 811-4111, www.theatermania.com, or www.theflea.org.