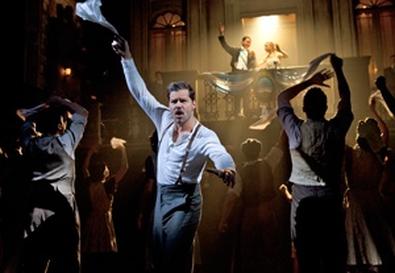 "No danger." That's what I kept writing in my notebook while watching the new revival of "Evita," Andrew Lloyd Webber and Tim Rice's international hit centered on the charismatic and egotistical spiritual leader of Argentina during the early years of her husband Juan Perón's brutal regime. When the sung-through musical premiered in London in 1978, headlined by Elaine Paige, and then arrived on Broadway a year later, starring Patti LuPone in a breakthrough performance, there was plenty of danger. Harold Prince's Brechtian staging in both productions infused the otherwise flimsy material with a frightening political edge. Evita's slick stagecraft in presenting herself as a saintly benefactor to the downtrodden while accumulating wealth and power was starkly presented in imaginatively surrealistic terms.

In Michael Grandage's more naturalistic version, which premiered in the West End in 2006, the irony is downplayed in favor of a softer, gentler view of the ambitious heroine. While Prince gave us a scary portrait of a shameful period in a country's history, Grandage offers a tidy, almost sentimental love story. Don't get me wrong; Grandage puts on a well-paced, strongly executed show, making clever use of Christopher Oram's enchanting and detailed sets and Neil Austin's fabulously expressive lighting. Rob Ashford's choreography does get a bit repetitive, particularly during the big "Buenos Aires" number. But the tango during "I'd Be Surprisingly Good for You" achieves a hypnotic elegance. Despite the basic proficiency of the staging, it all feels too safe. There's no threat when the cast sings of repression by Perón's machine, because we never see it.

For "Evita" to have maximum impact you really need three triple-threat stars to meet the almost superhuman demands of the score, and they have to be unafraid to show their characters' nasty sides. Unfortunately, each of Grandage's headliners falls short in at least one department. Elena Roger, the Argentine performer who played Evita for him in 2006, is an expressive conveyor of much of the role's complexity. A tiny woman, Roger is an explosive dynamo, prowling the stage like a tiger as Evita climbs to the top, and her native accent lends a welcome authenticity. But she lacks the vocal strength to fully put across the top notes, often going into a thin head voice when she should belt. Pop star Ricky Martin can certainly sing Che, the cynical Greek chorus figure, but he's missing the necessary bite and rage to give the commentary the sting it needs. Even Michael Cerveris, who possesses the vocal and dramatic chops to limn ruthless dictator Juan Perón, makes the character into a kindly, avuncular figure. But that's probably how Grandage directed him.

Max von Essen captures the smarmy smoothness of Evita's early lover, the ballad singer Magaldi, and Rachel Potter wisely underplays "Another Suitcase in Another Hall," the gentle lament of Perón's mistress as she is pushed out of his apartment by the unstoppable Evita.

The production is entertaining enough for those who are satisfied to hear the now-familiar score—including "You Must Love Me," which was written for the 1996 film version starring Madonna—pleasantly performed. Musical supervisor–conductor Kristen Blodgette deserves credit for the precise delivery of Rice's wordy lyrics and Lloyd Webber's rich tunes. But if you yearn for a powerful wallop to your gut, listen to either of the original cast albums and fall under the spell of Paige or LuPone.

Presented by Hal Luftig, Scott Sanders Productions, Roy Furman, Yasuhiro Kawana, Allan S. Gordon/Adam S. Gordon, James L. Nederlander, Terry Allen Kramer, Gutterman Fuld Chernoff/Pittsburgh CLO, Thousand Stars Productions, Adam Blanshay, Adam Zotovich, Robert Ahrens, Stephanie P. McClelland, Carole L. Haber, Ricardo Hornos, Carol Fineman, Brian Smith, and Warren and Jâlé Trepp at the Marquis Theatre, 1535 Broadway, NYC. Opened April 5 for an open run. Mon., Wed.–Sat., 8 p.m.; Tue., 7 p.m.; Wed. and Sat., 2 p.m. (800) 745-3000 or www.ticketmaster.com. Casting by Telsey + Company.