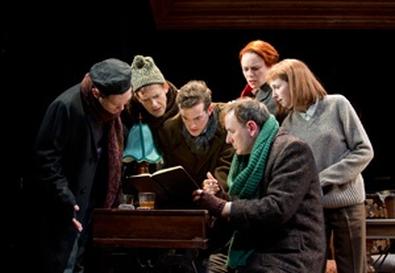 In 2005, writer Sherrill Tippins' book "February House" revealed the full story behind a long-demolished house at 7 Middagh Street in Brooklyn Heights, where Carson McCullers, W.H. Auden, Gypsy Rose Lee, and Benjamin Britten -- among other unlikely roommates -- lived together in 1940 while pursuing their various artistic pursuits. Now the lives of those involved have been traduced in an even more unlikely musical, with book by Seth Bockley and score from Gabriel Kahane.

Unable to create three-dimensional portraits of so many complicated artists (Jane and Paul Bowles, who also lived in the house, didn't even make the cut), Bockley has reduced the included participants to their most obvious characteristic. And in an effort to keep the proceedings from bogging down in biographical details, his book merely glances at the inhabitants' claim to fame, counting on audience recognition to fill in the blanks. But by dropping us into the middle of a slender chapter in the lives of its characters, "February House" acquires the overheated mystery that comes with watching an unfamiliar soap opera. Everyone's very excited about something, but whatever it is seems paltry based on our limited knowledge.

Paltrier still is what Kahane has chosen to musicalize. The focus of "February House" is not on the genius of its denizens but on the hilarity of having so many disparate people sharing living quarters. So Kahane has written comedic numbers about decorating (Riccardo Hernandez contributed the suitably garish Victorian set design), bed bugs, and a well-dressed man's etiquette. With the exception of a powerful Act 2 duet about Auden's refusal to speak out against the war in Europe, there is very little musically that's thrilling.

Under Davis McCallum's direction, the performances aren't much more memorable. Kacie Sheik's Lee is a shrill pleasure, knowing in her sexuality and landing her punch lines, but as editor George Davis, under whose guidance February House came into being, Julian Fleisher comes across as a camp den mother. Stanley Bahorek and Ken Barnett, as Britten and his lover Peter Pears, are turned into comic relief (composer Britten, in particular, is done a disservice here). Erik Lochtefeld's Auden is nothing more than a romantic, pining over the younger Chester (played with pep and not much else by A.J. Shively).

As McCullers, Kristen Sieh gets an appropriately wistful number about wanting to live on Coney Island among the freaks, but her spitfire performance focuses on the writer as a Southern tomboy; there's no hint at McCullers' depths here. And Stephanie Hayes and Ken Clark, as Thomas Mann's daughter Erika and McCullers' husband, Reeves, serve merely to move the plot along.

The takeaway of "February House" is that a group of remarkable people once lived, laughed, and created together, at time contentiously and at times contentedly. But judging solely from this dreary musical, you'd never know that they were critical figures in 20th-century culture. Sometimes a house just can't be made a home.

Presented by the Public Theater, in association with Long Wharf Theatre, at the Public Theater, 425 Lafayette St., NYC. May 22–June 17. Tue.–Thu. and Sun., 7 p.m.; Fri. and Sat., 8 p.m.; Sat. and Sun., 2 p.m. (No performance Wed., May 30.) (212) 967-7555 or tickets.publictheater.org. Casting by Jordan Thaler and Heidi Griffiths.