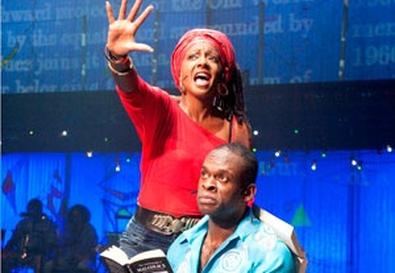 For the third time around in New York, "Fela!," the exuberant yet difficult musical about the Nigerian musician-activist Fela Anikulapo-Kuti, retains its ferociously entertaining energy. First produced Off-Broadway in 2008 and then reworked and tightened for a Broadway transfer in 2009, this innovative tuner told its protagonist's story in unflinchingly unconventional style. Now the touring version is making a brief Broadway summer stopover, but it feels more like a party than a challenging piece of political theater.
The framework remains the same: The audience is attending a final concert at the Shrine, Fela's nightclub in Lagos, the capital of his native country. After years of fighting against the Nigerian military dictatorship through his music and protests, Fela has seen his compound raided, his retinue beaten and abused, and his mother, Funmilayo, herself a political activist, brutally murdered, pushed from her second-story window by the military. During the performance Fela makes references to hostile soldiers surrounding the theater and informs us that he plans to leave the country. However, Funmilayo's spirit urges him to stay and continue leading the resistance against the corrupt government. The story of Fela's growing social conscience, his run-ins with the Nigerian authorities, and the development of his infectious Afrobeat sound is told largely through monologue, interrupted by exhilarating musical numbers brilliantly directed and choreographed by Bill T. Jones, who won a Tony for his dances.
For the touring version, Marina Draghici's detailed environment—depicting the Shrine and by extension all of Lagos in riotous graffiti-sprayed glory—does not entirely envelop the Al Hirschfeld Theatre as it did 37 Arts during the Off-Broadway run at 37 Arts and the Eugene O'Neill Theatre during the Broadway stand. As a result, the audience is not entirely transported into Fela's dangerous world. In the previous incarnations it felt as if the Nigerian army really was right outside the stage door and you risked arrest just by being in your seat. The illusion was thrillingly immediate and brought a dimension of fear to the proceedings. Robert Wierzel's scene-setting lighting and Robert Kaplowitz's sound are just as effective, but Peter Nigrini's entrancing projections have been cut back considerably.
Despite the ratcheting down of intensity, Sahr Ngaujah retains his blazing charisma and dazzling musical and dramatic versatility as he continues in his Tony-nominated performance of the title role. It's a marathon part, holding center stage for the vast majority of the show's two and a half hours. Ngaujah delivers Fela's narrative with a wicked grin, engaging the audience with rakish humor whether reliving show-business anecdotes of the music scene in America and Europe or horrifying tales of prison torture. He just as easily conveys Fela's burning need for forgiveness from his departed mother. Whether playing a mean saxophone, leaping across the stage in one of Jones' sizzling steps, or impersonating a smarmy British journalist or a menacing general, Ngaujah commands our attention.
As the spectral Funmilayo, Melanie Marshall is a welcome addition, giving voice to the character's gleaming ideals in a silvery soprano. Paulette Ivory sparkles with wit and beauty as Fela's American sweetheart Sandra. Gelan Lambert detonates the stage with dynamic tap dancing. Once again, a highlight of the show is an accelerating challenge dance in which each member of the powerhouse chorus gets a white-hot solo. But the real star is Ngaujah.
Presented by Shawn "Jay-Z" Carter and Will and Jada Pinkett Smith, Ruth and Stephen Hendel, the National Theatre of Great Britain, Ahmir "Questlove" Thompson, Sony Pictures Entertainment, Fela LLC, Roy Gabay, Edward Tyler Nahem, Slava Smolokowski, Chip Meyrelles/Ken Greiner, Douglas G. Smith, Steve Semlitz/Cathy Glaser, Daryl Roth/True Love Productions, Susan Dietz/M. Swinsky/J. Deitch, and Knitting Factory Entertainment at the Al Hirschfeld Theatre, 302 W. 45th St., NYC. July 12–Aug. 4. Mon., Tue., and Thu., 7 p.m.; Wed., 7:30 p.m.; Fri. and Sat., 8 p.m.; Wed. and Sat., 2 p.m. (212) 239-6200, (800) 432-7250, or www.telecharge.com. Casting by Arnold J. Mungioli and Pippa Ailion.