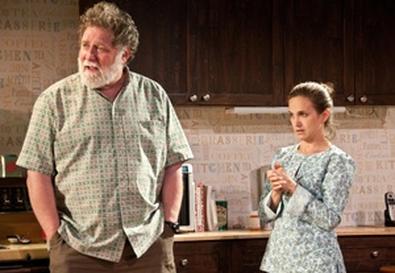 Right outside the Cherry Lane Theater, on the evening when I was seeing the modest four-character play "This Is Fiction," some half dozen cranes, two dozen extras and twice as many crew were transforming the street from summer into winter, adding bucket after bucket of fake snow for a scene in a movie remake of "The Secret Life of Walter Mitty," starring Ben Stiller.
One need only witness such extravagance in the service of entertainment to realize how thoroughly fiction can crowd out reality. The interplay between the two is an intriguing subject, one that "This Is Fiction," by its title and through the company's promotional material, promises to explore. But this first full-length play by Megan Hart barely gets to its supposed subject.
When the play begins, Amy (Aubyn Philabaum) has just walked out of a meeting with a publishing house that has accepted her first novel. While waiting out a rainstorm in a bookstore, she meets Ed (Bernardo Cubria), and (we learn later) goes home with him for three days of passionate lovemaking, after which she steals his wallet. She then travels to her childhood home on Perfect Street in an unnamed town in New Jersey, where she breaks the news to her father (Richard Masur) and sister (Michelle David) that her novel is based on the life of her mother, an alcoholic who died in a drunk driving accident. Amy walked out of that earlier meeting with the publisher because she's ambivalent about having the work printed.
Hart, who has substantial credits as a New York actor and should not be confused with the romantic novelist of the same name, creates reasonably vivid characters, and is helped along by the two stand-out performances. Masur, an accomplished Broadway and Hollywood veteran with a familiar face, plays the easy-going, absent-minded father whose oddness might seem clinical in a lesser actor's hands. David serves a satisfying counterpoint as his hard-charging and bitter daughter Celia who is unable to forget or forgive, especially herself. Less persuasive are Philabaum and Cubria as the would-be romantic couple, largely because of the writing.
Despite attention-holding scenes and some good lines, "This Is Fiction" doesn't add up to much. Its stagecraft and logic are faulty in ways that a more experienced dramatist would surely have avoided. Some of the scenes feel like filler, and the play grafts an odd and sketchy romantic comedy onto a less sketchy family drama. When we finally get to the confrontation over Amy's novel, her family talks about the tome without having read it, nor even wanting to. Such indifferent characters could plausibly exist, but their interaction thus commands our attention far less than, say, the similarly themed "Other Desert Cities" by Jon Robin Baitz.
Presented by InViolet Repertory Theater Company at Cherry Lane Studio Theatre, 38 Commerce St., NYC. June 18-30, Mon.-Sat. (except June 19), 7 p.m. (212) 352-3101 or ovationtix.com.