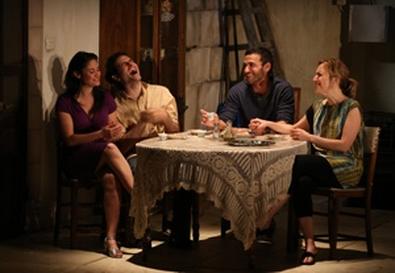 You know you're in trouble when the most interesting character onstage is the crazy chain-smoking aunt who only appears occasionally to obsessively gossip on her cell phone about a favorite television show. Sorry, but that was my reaction to "Food and Fadwa," a comedy-drama about a Palestinian family that's being co-presented by New York Theatre Workshop and Noor Theatre. The script, by Lameece Issaq, who also plays the lead, and Jacob Kader, makes many references to TV and pop culture and unfortunately sinks to that level in its depiction of the clan's coping with Israeli occupation and various soap opera conflicts. As energetically played by Kathryn Kates, Aunt Samia offers the only spark of vital credibility. Bustling onstage in the midst of a cable outage to scream into her phone for her friend to find out who was eliminated on the Arabic version of "American Idol," she is completely exciting and alive. The remaining characters are six degrees of clichés.
The main problem is Issaq and Kader's central conceit or, more accurately, gimmick. The titular protagonist deals with the pressures of a long-distance romance with Youssif, who has gone to live in far-away Manhattan, and caring for her senile father by fantasizing that she is the host of a TV cooking show. Fadwa addresses the theater audience as if we were her viewers, and each recipe is meant as a commentary on the family's latest crisis. In addition to the two above dilemmas and the constant struggle of being oppressed by a foreign power, there's the impending wedding of Fadwa's sister, Dalal, to Emir, Youssif's brother, whose military pass allows him to travel to Jerusalem from their city of Bethlehem. Unfortunately, it is about to expire, because Emir refuses to act as an informant for the Israelis. To add to the complication, Youssif returns for the wedding with Hayat, Fadwa and Dalal's self-important cousin, who is now a famous chef in America and Youssif's new flame.
The cooking-show device is funny the first time it's used but gets repetitious quickly, and the playwrights employ it unimaginatively. Instead of the monologues happening in Fadwa's head, she is saying them out loud, with the rest of the family listening. Only the visiting Hayat plausibly reacts as if her cousin requires psychiatric attention. It doesn't help that the main plots—Fadwa being rejected by Youssif, her father's advancing dementia—are routine. The fact that they are happening to a group of people in a part of the world that New York theater doesn't usually cover fails to compensate for their excessive familiarity in both content and treatment.
The slick direction by Shana Gold and the majority of the performances are competent but not vital enough to lift the material above its flatness. Issaq doesn't overplay Fadwa's disappointment and frustration, wisely keeping her ironic comments light. She could easily have come across as a bitter pill. Likewise, Arian Moayed and Maha Chehlaoui are refreshingly breezy as Emir and Dalal. Haaz Sleiman struggles to keep Youssif from being too gloomy. Heather Raffo has the difficult assignment of making Hayat's narcissism palatable or at least understandable. She makes a game effort, but her character is too narrowly defined. As the mentally foggy father, Laith Nakli suggests the strength this once-proud man possessed.
Andromache Chalfant's beautifully detailed set and Gabriel Berry's evocative costumes create a specific time and place, something the sitcom writing fails to accomplish.

Presented by New York Theatre Workshop and Noor Theatre at New York Theatre Workshop, 79 E. Fourth St., NYC. June 14–24. Tue. and Wed., 7 p.m.; Thu. and Fri., 8 p.m.; Sat., 3 and 8 p.m.; Sun., 2 and 7 p.m. (212) 279-4200 or www.ticketcentral.com.