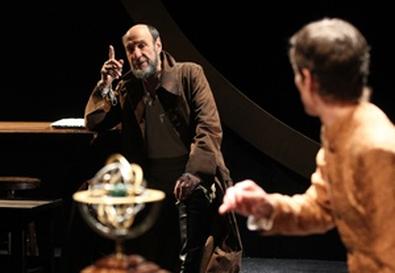 Just as our solar system requires the mighty sun to hold it in place, any production of Bertolt Brecht's epic "Galileo" needs a strong central performance to make it work. Unfortunately, F. Murray Abraham, in the title role of the current Classic Stage Company production, fails to provide sufficient gravitational force to set this intellectual examination of the battle between science and religion twirling. Abraham is certainly a skilled thespian and conveys the 16th-century astronomer's thirst for knowledge and passion for the truth about the celestial relationship of the earth and the heavens despite threats of suppression by the Catholic Church. But at the preview performance attended, he was insecure with his lines and shaky in his characterization. All too often the actor appeared to be searching for his words and therefore diffused the search for his objective: convincing Galileo's students, colleagues, and Vatican officials that the earth revolves around the sun and not the other way around.
That's a shame, because Brian Kulick's simple and imaginative production elegantly employs Brecht's presentational style and lays out both sides of the debate with equal complexity. The religious figures are not black-hearted, ignorant fanatics, nor are the advocates of progress depicted as saints. That's a function of Brecht's multifaceted script—presented here in the 1947 translation by Charles Laughton, who played the lead in Los Angeles and on Broadway—and also of Kulick's work with the able cast.
Aside from his tentativeness in attack, Abraham expertly puts across both Galileo's idealism and his pragmatism. He also subtly breaks the fourth wall by directly addressing the audience when Galileo is imparting his philosophy and manages to make it seem like a heartfelt dialogue with us rather than a lecture. But Abraham is most effective in a silent moment, when the scientist returns to his home after having recanted his theories because he was threatened with torture by the Inquisition. His features collapse in on themselves and his walk is slow and shuffling, broadcasting the scientist's shame and disappointment. It's a heartbreaking vignette and makes you wish the entire performance was as moving.
Veteran character actors Jon DeVries, Steven Skybell, Robert Dorfman, and Steven Rattazzi do intense work in multiple roles. DeVries is full of simmering rage as an ancient cardinal who refuses to believe the possibility that man is not the literal center of the universe. Dorfman and Skybell dance a frightening gavotte of intrigue as ambitious papal officials. Rattazzi has fun with a sputtering merchant, a cynical balladeer, and a superstitious peasant. Andy Phelan, Nick Westrate, and Aaron Himelstein lend variety to the younger parts, particularly Himelstein as a monk attempting to balance his scientific curiosity with his faith. Amanda Quaid supplies Virginia, Galileo's resilient daughter, with a spine of steel.
Set designer Adrianne Lobel has transformed the intimate CSC space into a dreamy planetarium, with heavenly orbs lit poetically by Justin Townsend. These planets also serve as backdrops for Jan Hartley's starry and sublime projections. Oana Botez-Ban is responsible for the character-defining period costumes. One unfortunate design choice is the original music by Christian Frederickson and Ryan Rumery. Their tinkly score is too sweet and lullaby-ish to evoke the serious issues at hand, and one recurring theme sounds a bit too much like the opening four notes of the title song of the recently and badly revived "On a Clear Day You Can See Forever." Without that inappropriate tune and with more rehearsal for Abraham, this "Galileo" could sound like the heavenly music of the spheres.
Presented by and at Classic Stage Company, 136 E. 13th St., NYC. Feb. 23–March 18. Tue., 7 p.m.; Wed.–Sat., 8 p.m.; Sat. and Sun., 3 p.m. (212) 352-3101, (866) 811-4111, www.theatermania.com, or www.classicstage.org. Casting by Calleri Casting.