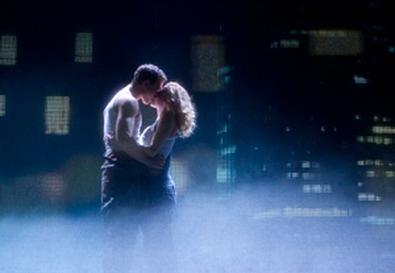 Someone needs to tell "Ghost" that it's not a movie anymore. No, not the 1990 film of the same name, which starred Patrick Swayze, Demi Moore, Tony Goldwyn, and Whoopi Goldberg. I'm talking about the identically named musical version, which director Matthew Warchus attempts to give cinematic qualities through the use of stage illusions, recorded videos, and film sequences. Film, however, has the luxury of yelling "Cut!" In the theater the show must go on, even if the expensive stage technology fails.

Though a technical glitch caused an unplanned 25-minute break at the performance I attended, I'm not going to get caught up in the details. The incident only illustrates exactly what is wrong with "Ghost": It's trying to be something it's not. Warchus has turned a touching silver-screen love story into an overly flashy showbiz musical that betrays the intimacy of its source. The show, which is also running in London, where it opened in 2011, stays true to the screenplay. Young lovers Sam and Molly have just moved in together when Sam is killed in a mugging. Remaining as a ghost, Sam tries to protect Molly when he discovers that his friend and work colleague Carl is trying to launder millions of dollars of drug money, putting Molly's life in danger. With the help of storefront psychic Oda Mae Brown, Sam finds ways to communicate and reconnect with his lost love.

The wonders of movie magic struggle to succeed onstage, despite Hugh Vanstone's impressive lighting. Many of the effects appear blatantly set up. In the film, when someone dies the spirit steps out of the body and the corpse remains. To achieve the same result onstage, other actors or large costumes clumsily provide a shield so that someone else can step in as the dead body. Bobby Aitken's sound design provides technolike noises for when the ghosts try to move objects or walk through fixed barriers. However, it's almost too obvious that the actor is running his hand next to the doorknob instead of right through it. (The scene when Sam walks through the door for the first time was visually impressive until the next time the door slammed, when the sound effect and the door projection didn't sync up properly, letting the secret loose.)

Not all of the scenes need these grand illusions, but Warchus seems determined to overuse his projections. In a Wall Street number, dancing silhouettes mirror the actors performing Ashley Wallen's peppy choreography, and Jon Driscoll's projections feel extraneous. Dave Stewart and Glen Ballard's loud pop score and Christopher Nightingale's busy orchestrations drown out many dramatic moments.

The plethora of visual excitement makes it difficult for the actors to display any authenticity. Because book writer and co-lyricist Bruce Joel Rubin's scene-for-scene re-creation of his Oscar-winning script matches it almost too perfectly, the cast is essentially asked to mimic the film. (Yes, Molly and Sam do make pottery to the tune of "Unchained Melody," sung by the Righteous Brothers, in case you were wondering.) Da'Vine Joy Randolph is delicious as the scene-stealing Brown. Her number "I'm Outta Here" is a campy highlight. As Sam and Molly, Richard Fleeshman and Caissie Levy possess capable vocal chops but can't reproduce the movie's nuanced acting and emotion. Bryce Pinkham has a Joker-like sensibility as Carl, but his voice doesn't have the power the songs require.

As the characters sing repetitive refrains about being "Here Right Now" or how to "Suspend My Disbelief," it becomes increasingly difficult to practice those same principles as an audience member. Ultimately, Warchus' vision doesn't take on a life of its own, leaving the ghost of the film haunting the Lunt-Fontanne Theatre.

Presented by Colin Ingram, Hello Entertainment/David Garfinkle, Donovan Mannato, MJE Productions, Patricia Lambrecht, and Adam Silberman, in association with Coppel/Watt/Withers/Bewick, Fin Gray/Michael Melnick, Mayerson/Gould Hauser/Tysoe, Richard Chaifetz and Jill Chaifetz, Jeffrey B. Hecktman, Land Line Productions, Gilbert Productions/Marion/Shahar, and Fresh Glory Productions/Bruce Carnegie-Brown, by special arrangement with Paramount Pictures, at the Lunt-Fontanne Theatre, 205 W. 46th St., NYC. Opened April 23 for an open run. Mon., Wed.–Sat., 8 p.m.; Tue., 7 p.m.; Wed. and Sat., 2 p.m. (800) 982-2787 or www.ticketmaster.com. U.K. casting by David Grindrod. U.S. casting by Tara Rubin Casting.